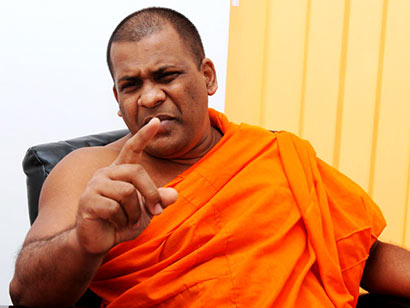 The Bodu Bala Sena (BBS) said they would take legal action against the Sri Lanka Muslim Congress (SLMC), if its Deputy General Secretary, Nizam Kariapper did not retract his statement that BBS had said that there would be a repeat of the 1915 Buddhist-Muslim riots, if common candidate, Maithripala Sirisena came to power.
Chief Executive Officer of the BBS, Dr. Dilanthe Withanage and General Secretary, Ven. Galagodaaththe Gnanasara Thera said yesterday (16) that the comments were the first move taken by the SLMC to give birth to a federal state.
Ven. Gnanasara Thera explained that the conspiracy was a project orchestrated by former President, Chandrika Bandaranaike Kumaratunga.
"We challenge the SLMC and Kariapper to a debate on these false statements they are making to further their political career and to appeal to their voter base. We will file a complaint with the police if the statement is not withdrawn," Dr. Withanage said.
"We implore local and traditional Muslims to not fall prey to opportunistic politicians," Gnanasara Thera said.
Kariapper declined to comment.
General Secretary of the SLMC, Hasan Ali and National Organizer of the SLMC, Shafeeq Rajabdeen were unavailable for a comment.
(Ceylon Today)