Florence Nightingale of Sri Lanka to return from UK to Sri Lanka for Charity Work: Bernadette Radhika Rajaratnam Raj Kumar
Posted by Editor on May 5, 2012 - 5:46 am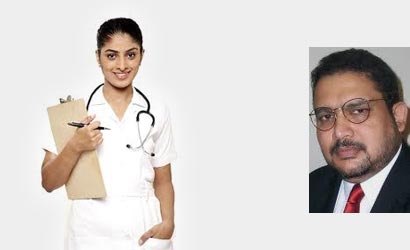 – By Dr.Telli C Rajaratnam –
Florence Nightingale was a celebrated English nurse, writer and statistician. She came to prominence for her pioneering work in nursing during the Crimean War, where she tended to wounded soldiers. An Anglican, Nightingale believed that God had called her to be a nurse.
Nightingale laid the foundation of professional nursing with the establishment, in 1860, of her nursing school at St Thomas' Hospital in London, the first secular nursing school in the world, now part of King's College London. The Nightingale Pledge taken by new nurses was named in her honour, and the annual International Nurses Day is celebrated around the world on her birthday. Florence Nightingale was born into a rich, upper-class, well-connected British family at the Villa Colombaia, near the Porta Romana at Bellosguardo in Florence, Italy, and was named after the city of her birth.
Bernadette Rajaratnam is a legend for tolerance, patience having experienced a sordid a sad beginning of her life. Bernadette was born in England on March 01, 1959 . She is the grand daughter of the Late T.C.Rajaratnam O.B.E., C.B.E.,(1892 to 1956) Chairman of the Ceylon Wholesale Establishment, Chairman of the Ceylon Malayan Tobacco Company, Chairman of the American Ceylon Mission and a Founder Member of the United National Party and Raneenayagam Barr Kumarakulasinghe Rajaratnam.
Due to reasons known to a few of the elite Tamil family, Bernadette was sent to St.Agnes Convent in Matale for her education. The family estranged her for reasons best known to them when she was  eight years old. As a child Bernadette suffered immensely after leaving the Convent at 18 years of age and worked as a domestic in her own family ancestral home in "Raneestan" Inuvil. Unfortunately when she was born her grandfather was not alive. He died in 1956. Her own family members mistreated her and emotionally abused her and she tried to become a Nun. However, her passion for the sick, weak and the poor compelled her conscience to become a Nurse and she became a Nurse at Cinnamon Gardens Nursing Home with the assistance of Late Dr.Moothuthamby. Thereafter Late Prof.Viswanathan  encouraged  her to complete advanced studies in Nursing.
Bernadette's birth in England was concealed by her elite Tamil family in Ward Place, Colombo-7 and Queens Road, Colombo-3. She was unaware of the details of her birth and had worked as a domestic in her own family home. Her tears and agony has been a stigma upto this date. Her consolation is taking care of the sick, the poor and the destitute children as a Nurse in the United Kingdom. Although she has lived in the United Kingdom over 30 years now and is a Professional Nurse, she has decided to come back to Sri Lanka to occupy the ancestral House which she is the legal heir. She has decided to take care of orphans and destitute children and children born out of wedlock and subjected to emotional and physical abuse and to a great extent prevent abuse of children.
When she spoke to me over the phone she said "Somewhere a child is crying for no fault of that child… I know what happened to me- as much as I can I want to take care of children and with the assistance of President Mahinda Rajapaksa and Lady Shiranthi Rajapaksa bring to book all those violators and enlighten the people of the rights of children and the legal liabilities to  those who abuse children. I am coming back in a few weeks".
A special interview has been arranged by BBC to reveal her true life story of the agony of neglect as a Child. The Nuns from various Convents who are aware of Bernadette's story will also be interviewed and telecast.
On her arrival, local Televisions will interview her at the Airport. She will be accompanied by a British Lawyer and Child and Women Rights Activist.
Latest Headlines in Sri Lanka