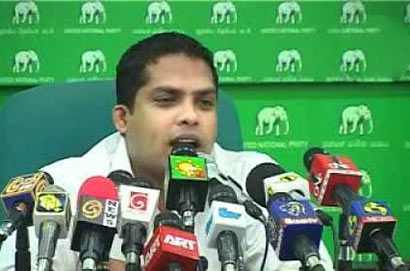 Minister Harin Fernando said he saw MP Udaya Gammanpila dressed in black and carrying a black flag. "But before long he will have to raise a white flag to mark the end of the joint opposition, which has nowhere to turn now. I can only feel sorry for him," he said.
He told the media in Badulla to create awareness regarding the future programmes of the government. He said bankrupt politicians of Gammanpila's ilk were trying in vain to extricate the joint opposition from its present predicament.
"The joint opposition will disintegrate into atoms very soon as its members desert it one by one. Next year will be a year of major changes. Several leading investors who have developed many countries, including Singapore and Dubai, will come to Sri Lanka after January 7 and begin development programmes that will generate employment opportunities." he said.
Parliamentarian Wadivel Suresh who addressed the media challenged Mr. Gammanpila to raise a single black flag in the upcountry estates. He said the government of President Maitripala Sirisena and Prime Minister Ranil Wickremesinghe would not allow anyone to disrupt the communal harmony in the country. He said the entire joint opposition was getting deeper and deeper into the morass.
Provincial Councilor Janaka Tissakuttiarachchi also addressed the media.
(Source: Daily Mirror)