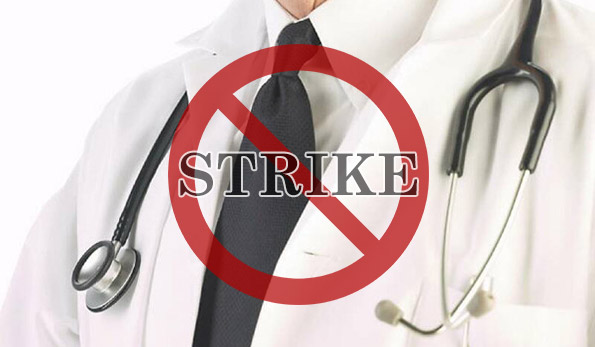 The GMOA yesterday announced that they will resort to an all island trade union action from 8 a.m. to 12 noon today in protest against the attack on medical students who engaged in a street protest in Colombo.
The GMOA was vocal about granting provisional registration to SAITM graduates to practise as medical practitioners.
Addressing a press conference at the GMOA Head Quarters in Colombo 7 yesterday, he said that the GMOA plans to inform the President and the relevant authorities that all possible measures be taken to protect patients' rights. The GMOA will pressurize them to do so.
According to Dr.Zoysa, the GMOA will commence legal measures after an indepth study of the legal background of the issue. The GMOA will also educate all parties including the public on the existing situation and the threat posed to the safety of the lives of the patients.
"At present, a panel of expert lawyers of the GMOA are studying the 42 page judgement given by the Court of Appeal in connection with the SAITM issue. The GMOA will not let Sri Lanka become the first country in the world where doctors without Medical Council registration start practicing," he added.
Speaking further he said Health Minister Rajitha Senaratne should take actions in relation to the technical report produced by the Sri Lanka Medical Council (SLMC) to him five months ago.
Answering a journalist, Dr.De Soysa said, "SLMC examined the Medical Faculty of Kothalawala Defence University (KDU) and presented recommendations regarding the standards of the operations when it was established.
"We are not only specifically against the registration of the medical graduates of SAITM. Therefore, even now the SLMC can inspect whether the required standards are maintained at the KDU Medical Faculty and we are not in opposition to it,"Dr.De Soysa said.
"Our only ultimate aim is to refrain from Sri Lanka becoming the only country to produce doctors without the permission from the medical council of the respective country".
He also said that a discussion had taken place between the SLMC and the GMOA yesterday.
"Provisions related to safeguarding the standards of medical education and the rights of patients were discussed at the meeting," he added. Referring to the protest campaigns scheduled to be held Dr. De Soysa said they would minimise the negative impacts caused to the patients due to the protest campaigns.
(Source: Daily News)