NO RIGHT TO PUNISH TEACHERS!
Posted by Editor on June 19, 2013 - 8:04 am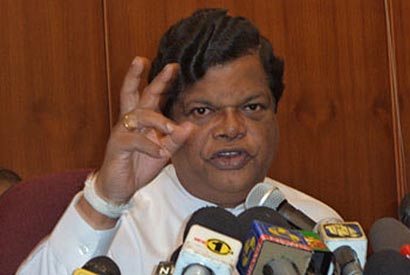 No political party or politician has the right to mete out punishment to any member of the teaching profession, Education Minister Bandula Gunawardena said. The minister was addressing the 'Arts Competition 2012' certificate awarding ceremony at Isurupaya yesterday. "No political party can claim a justifiable right to mete out punishment to teachers, and on the other hand students should not be brought out of schools and pushed onto the streets to participate in 'protests.'
"Such acts are never accepted by the Education Ministry," the minister said. Minister Gunawardena said the Education Ministry has the right to inquire into complaints made by teachers when such incidents are reported.
In this respect, the Education Ministry will never consider the position or status of the miscreant when investigating complaints by teachers against such misconduct.
The minister pointed out that school children were victimised during the three decades of terrorism.
He added that aesthetic subjects play a pivotal role in moulding young minds. A significant turning point in the country's education sector will be witnessed on July 15 with the introduction of the Technology Stream to the Advanced Level curriculum. The technology stream will be introduced as the fifth stream from this year in keeping with modern trends. The Advanced Level classes of all streams for those who have got through the Ordinary Level Examination 2012 have been scheduled to commence on July 15.
The present day Advanced Level comprises four streams , Science, Mathematics, Commerce and Arts. Each year around 350,000 students sit the Advanced Level examination and out of them 25,000 qualify to enter universities. Around 300,000 youths, who sit the examination following the four streams enter the job market annually. A greater number of them though fail to obtain gainful employment since the four streams are not basically job oriented. Since the four streams are academic streams, the students have to follow many other courses to obtain proficiency in various fields. Therefore, aiming to quench the huge demand in the job market, the technology stream is introduced, Minister Gunawardena said.
At the initial stage, the new stream will be available at 200 schools so as to cover every Divisional Secretariat Division and the number will be expanded gradually. The Education Ministry will provide all facilities for schools at which the technology stream is to be started.
(Courtesy: DM Online)
Latest Headlines in Sri Lanka