President at opening of Deyata Kirula exhibition… FABRICATIONS CAN'T FAZE US
Posted by Editor on February 22, 2014 - 8:01 am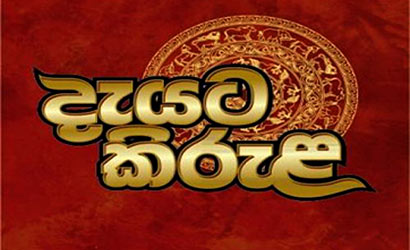 President Mahinda Rajapaksa yesterday stressed that Sri Lanka is not a failed state adding that we have the courage and ability to cope with any issue.
The country's image will not be tarnished by baseless and fabricated allegations, the President said at the opening ceremony of the eighth Deyata Kirula Exhibition at Kuliyapitiya yesterday. He said Deyata Kirula represents the country's development plan. President Rajapaksa added that the Deyata Kirula exhibition is linked with the country's development plan after liberating the country from the three decade terrorism.
"Development reaches the country through the Deyata Kirula Exhibition. This is clearly obvious when visiting Ampara, Anuradhapura, Buttala, Kandy, Kuliyapitiya or any other place where the Deyata Kirula Exhibition was held," the President said.
President Rajapaksa said certain pessimists say that the Deyata Kirula is a mere white elephant. "They have deliberately forgotten that Deyata Kirula is the national development drive of the country."
He said the public visited the Deyata Kirula Exhibition in fear owing to terror activities in 2006.
"Today, thousands are flocking to the exhibition premises without fear. This is because of the prevailing peaceful situation in the country. Besides development, every sector has been placed on a rapid progressive track," the President said.
"For instance nano technology has been introduced while the technology stream has also been introduced to the Advanced Level curricula from last year," he said.
He added all constructions at the exhibition premises are permanent and can be utilised after the exhibition. The Kuliyapitiya area will be an education hub in the future with the educational development carried out under the Deyata Kirula exhibition, he said.
(Courtesy : Daily News)
Latest Headlines in Sri Lanka