Sri Lanka celebrates Poson Poya
Posted by Editor on June 15, 2011 - 10:49 am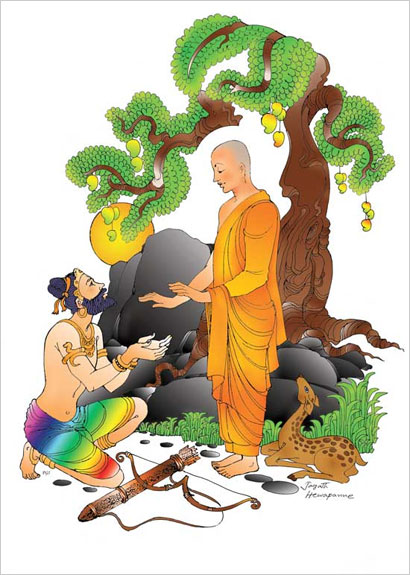 The Buddhists in Sri Lanka have made all arrangements to celebrate Poson, the festival  celebrated in Sri Lanka on the full moon day of June, with much devotion and piety.
The roads have been decorated with lanterns and other illuminations and religious places have been illuminated with colourful lights. Dansalas offering food and refreshments have been organized in almost all parts of the country. Special programmes have been organized to facilitate the devotees visiting religious sites in Anuradhapura and Polonnaruwa. The railway department will operate free train services between Anuradhapura and Mihinthalaya.
Poson, held on the full moon day commemorates the occasion over 2,000 years ago when Arahat Mahinda, son of Emperor Asoka of India, converted King Devanampiyatissa to Buddhism. The main center of celebration is Mihintale, the ancient monastic complex where the royal missionary monk Mahinda preached the first sermon to the ruling king at Anuradhapura the ancient capital, to which large crowds of pilgrims converge.
For Buddhists, this hallowed day of Poson is second only to Vesak in terms of importance. Although Poson is celebrated throughout the island, the major ceremonies are to be found in Anuradhapura and Mihintale. Long lines of devotees dressed in white climb the many steps to the top of the Mihintale hill first to the temple, and then to the dagabas that lie adorning the nearby hillocks. In addition, many devotees climb to the very top of the rock, to the spot where Arahat Mahinda delivered his initial discourses.
The environmental service programme will be carried out at Mahamewna Uyana on the Poson Poya day under the Chairmanship of Minister Anura Priyadarshana Yapa. This programme will include Shramadana activities, street dramas and distribution of pamphlets by school environmental guides.
The Chairman of the Sri Lanka Transport Board informs that 400 additional buses have been deployed for the devotees to travel to Anuradhapura from Colombo and other main towns and these buses will be on service until the 17th.  The Sri Lanka Railways has also made arrangements to operate special train services from Colombo Fort
The official Poson festival and the Aloka Pooja will be held from today until the 16th at Sithulpawwa Rajamaha Vihara. Several hundred thousands of devotees are expected to participate.
In line with this function the completion of the Ranweta constructed with the contribution of the people and laying the foundation stone for the archeological museum of the Viharaya will take place.(niz).
Source: Government News Portal
Latest Headlines in Sri Lanka