Sri Lanka must be fearless against England – Mathews
Posted by Editor on May 17, 2016 - 7:41 am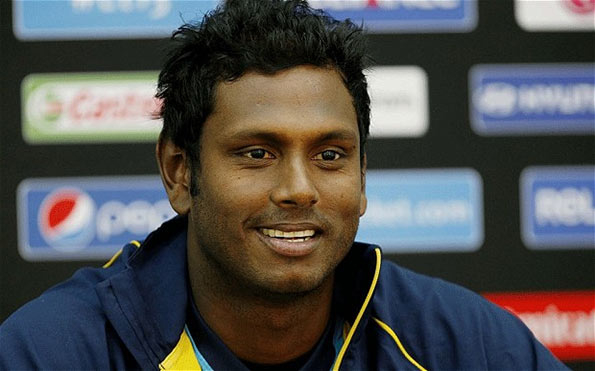 Sri Lanka's captain, Angelo Mathews, is enjoying the pressure and the challenge of bringing through young players during a Test series against England.
The tourists' ebullient captain still enjoys the five-day game above all and he and his young side promise the unity of Leicester City this coming week
'I feel like an old man trying to keep up with them," Angelo Mathews says with a wry smile as he looks around the Sri Lanka team room at their hotel in Leicester. Four of his young players are engaged in a fierce match of table tennis while most of the others goof around cheerfully. They appear oblivious to the pressures under which Mathews operates for, apart from captaining Sri Lanka in all three formats, the 28-year-old is their key player and talisman.
His immense value was apparent two years ago when, weeks after they won the World T-20, Mathews led Sri Lanka to a first Test series victory in England. He hit two memorable centuries, including a series-deciding 160 in a thrilling match at Headingley, where he also recorded career-best Test bowling figures of four for 44. His presence now, following the international retirements of two legendary cricketers in Kumar Sangakkara and Mahela Jayawardene, is even more fundamental to Sri Lanka's chances against a rejuvenated England.
A three-match Test series starts on Thursday, at Headingley, followed by five ODIs and a Twenty20 game, and Mathews is candid about the demands placed on the captain of a once violently divided country. "I don't know how long I will do all three jobs," he says. "It is always a burden and there is always pressure being in the hot seat. It's never an easy task. I'm trying my best to compartmentalise things because the pressure can get too much sometimes. But as long as I enjoy it I will keep on."
Cricket is much more than a game in Sri Lanka – and it has long been a unifying force in the way that the country has embraced a team of Catholics, Muslims and Buddhists from different castes. "Absolutely," Mathews exclaims. "Since I started we've always had players of different cultures, religions, races. But we've always played as brothers. We've not had any conflicts and the game in Sri Lanka unites everyone. People are so passionate about cricket and this team. That's a great plus point."
Seven and a half years ago Mathews made his debut in a low-key international against Zimbabwe. The significance of this series is not lost on him, for his coach then was Trevor Bayliss – the Australian who now exerts such a positive impact on England. "I remember it very well," Mathews says of his ODI debut in December 2008 in Harare. "I was so excited and nervous and I really wanted to do well. Unfortunately I got out for a duck."
The Mathews laugh erupts again. "Luckily Trevor gave me another opportunity in the next game and I hit a quick-fire 30 and took one wicket. From there it really took off for me and I played the first two years of my international career under Trevor."
Mathews is an amiable man – but he can be a feisty and combative captain. Two years ago, in the fifth ODI against England that Sri Lanka won to clinch a 3-2 series victory, Mathews defended a controversial run-out of Jos Buttler. The Sri Lankans dismissed him, after two warnings for straying out of his crease early at the non-striker's end, and Mathews was defiant in supporting his bowler Sachithra Senanayake. Alastair Cook, then England's ODI captain, described it as "a pretty poor act" while Michael Vaughan, another former England leader, tweeted: "Totally blame the captain … He is the man who makes the decisions and should have overturned the decision. No way to play the game." But an unrepentant Mathews insisted his team had acted within the rules.
Cook would eventually lose the ODI captaincy and his Test match leadership was placed under severe scrutiny after Mathews was a dominant force at Headingley. The Sri Lankan breaks into a smile when he remembers that Test victory. "Absolutely," Mathews enthuses, using one of his favourite words. "Headingley in 2014 was one of the most special moments of my life. The whole team will cherish it forever because we created history in winning a Test series in England. I cherish it for personal reasons because I got 160 and my best bowling figures. It went down to the wire, to the penultimate ball, and so it couldn't be better.
"I missed the series in 2011 through injury and so my first Test in England was in 2014, at Lord's. It was another great moment for me – and I was extremely happy to get a century."
In another dramatic encounter, with nine Sri Lanka wickets down in the second innings, England were denied only by a review – again on the penultimate ball. That draw set up their unforgettable Headingley finale.
Mathews is a canny captain and so, on Sri Lanka's arrival in England, he stressed the youth of his players. It is smart to play down expectations but, notably, nine of that triumphant 2014 squad have returned on this tour. "Absolutely. When it comes to the bowling department most of the seamers have played a lot of cricket. We are a little inexperienced in batting but we've got some young players who are fearless. That's important because playing in England, in early summer, when the ball is seaming and swinging, is a tough challenge. To beat these England boys you need that fearless spirit."
Mathews has slept "less than 50 nights" in his own bed over the last year. "We've played an awful lot of cricket – but it's what we like to do. I also love to spend time with my wife and friends on the beach. I love to go snorkelling and fishing when I can. Patience is the key to fishing and I am a patient man."
There is not much snorkelling going on in Leicester. "No," Mathews laughs before nodding sagely when asked if he has followed Leicester City's sparkling title-winning season. "When I heard that they won for the first time in history with not a lot of money or big names I thought: 'That's what you can do when a team are united.' That was the first word that came to my mind when I heard about Leicester – 'Unity'. My boys will show the world the same unity."
(Source: Guardian)
Latest Headlines in Sri Lanka