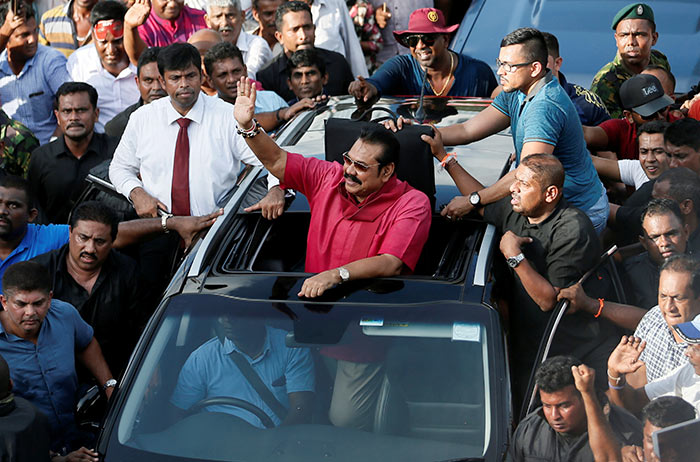 Thousands of Sri Lankan opposition demonstrators led by former leader Mahinda Rajapaksa blocked a main road in Colombo on Wednesday in protest at economic hardship and the delaying of provincial polls.
Police did not give an estimate but independent analysts said the number of demonstrators in the capital could be well over 15,000, mainly from rural Sri Lanka.
They blocked a main road near the finance and defense ministries, disrupting traffic, and thousands also gathered on nearby streets late into the evening.
The coalition government of President Maithripala Sirisena's center-left Sri Lanka Freedom Party (SLFP) and Prime Minister Ranil Wickremesinghe's United National Party (UNP) is under fire for sluggish economic growth.
The opposition said the protest was to force the government to hold delayed provincial council polls. The authorities have said the delays are due to deliberations about a possible new electoral system.
"The people's democratic rights are being violated by postponing elections," said Rajapaksa at the protest.
"The situation is going from bad to worse. The country is heading toward an autocratic form of governance rather a democratic rule. Therefore, it is our responsibility to restore democracy by forming a new government."
Namal Rajapaksa, the legislator son of the former leader, said the protest was the first step toward bringing down the government and forcing it to hold early national elections.
"People are frustrated against unreasonable taxes and economic hardships," Namal told Reuters.
The government, however, said the protest was nothing to do with provincial council elections or economic suffering.
"They want to divert the focus of misappropriation probes against their legislators and stop the ongoing state mechanisms," junior Home Affairs Minister J.C. Alawathuwala told reporters in Colombo.
Nalin Bandara, junior Public Administration minister, said the government had advised the 5,000 police deployed for the protest to allow opposition supporters to practise their democratic rights and freedom of expression.
The coalition government has initiated probes against Rajapaksa's family members including his two brothers and sons and many allies in relation to alleged corruption and financial misappropriation. However, the investigations are going slowly and the opposition has said they are politically motivated.
Rajapaksa was ousted in 2015 amid allegations of human rights abuses, threatening journalists and rights defenders, and corruption. Rajapaksa and his family deny any wrongdoing.
(Reuters – Pix by Dinuka Liyanawatte)