Sri Lanka schools closed on the eve of LG Polls
Posted by Editor on March 14, 2011 - 9:16 am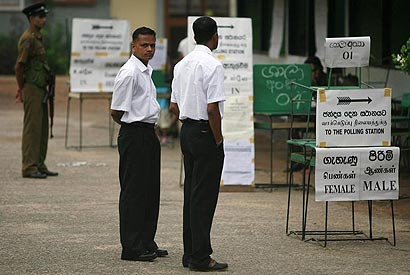 Sri Lanka Ministry of Education has decided to close schools in theareas where the LG elections are held on March 16 and 17.
The schools that are used as the counting centers will be closed from 14th Monday to Friday the18.
The Secretary to the Ministry of Education H.M. Gunasekara has said that the provincial education authorities have been informed of the school holidays.
Elections will be held on Thursday, March 17th for 234 local government institutions. In-fact in Sri Lanka altogether there are 335 Local Government Institutions. Following the termination of the periods Elections Commissioner called for nominations to conduct elections to 301 Local Govt Bodies.
Various political parties inclusive of the ruling coalition partners and the main Opposition UNP filed petitions against rejection of their nominations by the elections officials. Since the process of making arrangement to conduct elections is cumbersome, the Commissioner of Elections postponed the holding of elections of 67 LG Bodies.
The terms of 34 LG Bodies were extended up to May this year by the subject Minister, The Commissioner of Elections expressed the hope that he could hold elections to postponed 67 Local authorities along with 34 other institutions of which the terms will end in May 2011.
Source: Government News Portal
Latest Headlines in Sri Lanka