UK Prime Minister Meets President Rajapaksa
Posted by Editor on November 16, 2013 - 7:08 am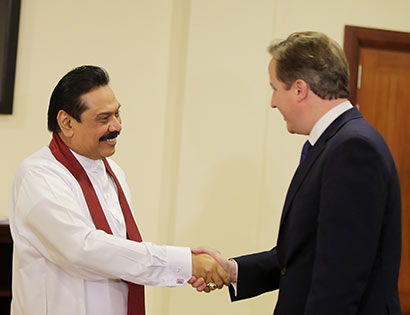 David Cameron, Prime Minister of the United Kingdom , who is now in Sri Lanka to attend the Commonwealth Heads of Government Meeting (CHOGM) 2013 met with President Mahinda Rajapaksa at the Sirimavo Bandaranaike Memorial Exhibition Centre this evening (Nov. 15).
Prime Minister Cameron expressed his satisfaction on the manner CHOGM 2013 has been organized. He said he did not believe the idea of boycotting the meeting as some proposed.
Referring to his visit to the North today, the UK Prime Minister noted that much progress has been made since the end of the conflict four years ago. He described holding elections to the Northern Provincial Council as a very positive step toward reconciliation.
However, he said that there are still several concerns to be addressed relating to displaced persons, land issues, military presence in the Province and devolving powers to the newly elected Council.
President Rajapaksa in response explained that an enormous amount of work has been done in terms of resettlement, rehabilitation and reconstruction of infrastructure destroyed during the conflict. In order to reach consensus on political matters a Parliamentary Special Committee (PSC) has been established for all parties concerned to air their views and reach a settlement.
"The PSC is the best forum for the purpose", observed the President." As it is now only four years since the end of the conflict the country needs some more time to overcome all major challenges", he stressed.
Mr. William Hague, Foreign Secretary and Mr. John Rankin, the UK High Commissioner in Sri Lanka accompanied Prime Minister Cameron.
Minister of External Affairs Prof. G. L. Peiris, Monitoring MP for the Ministry of External Affairs Mr. Sajin de Vaas Gunwardena, Secretary to the Ministry of Defence and Urban Development Gotabhaya Rajapaksa, Secretary to the President Mr. Lalith Weeratunga, Secretary to the Ministry of External Affairs Karunathilake Amunugama, Sri Lanka's High Commissioner in UK Dr. Chris Nonis and Chief of President's Staff Mr, Gamini Senerath were also present at the meeting.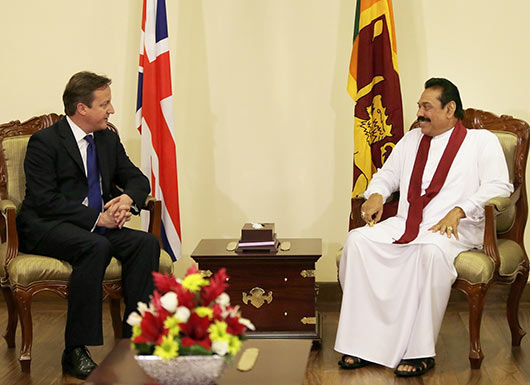 (Courtesy: President Media / Pix by Sudath Silva)
Latest Headlines in Sri Lanka