Macrae explains reason for not paying van hire
Posted by Editor on November 16, 2013 - 8:31 am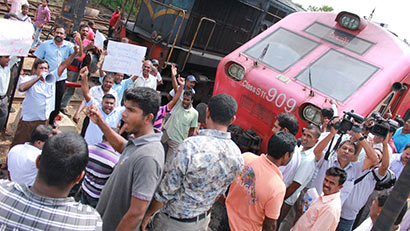 Head of the Channel 4 media team Callum Macrae has said, on twitter, that they did not pay the driver, who brought them to Colombo on Thursday, as they were forced to return by the police.
"Trouble is not usually a good idea to offer to pay when they order you into a van," his tweet said.
He has also claimed that the protest was an orchestrated one and the Sri Lankan government should worry more about the people who quietly shake their hands or give them the thumbs up. He has written, "First time I've heard of being charged by police for a taxi fare when they lift you (but for the record v happy to pay!) Police minicabsLtd!"
Police spokesman SSP Ajith Rohana said the crew wanted a vehicle to travel to Colombo.
(Courtesy: The Island)
Latest Headlines in Sri Lanka