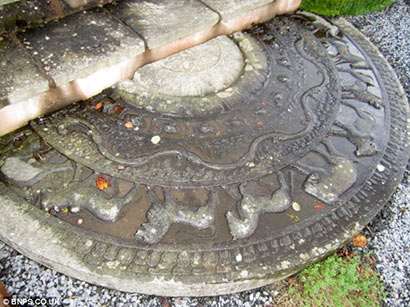 An ancient Buddhist artefact discovered being used as a doorstep and valued at £30,000 has been sold for more than £500,000. The granite relic was given to Bronwen Hickmott's parents by a tea planter who returned to Britain from Sri Lanka in the 1950s.
Mrs Hickmott inherited the 2.4m-long (8ft) stone from her mother and father and began using it as a doorstep at her home in Exeter, Devon – affectionately calling it 'the pebble'. But an expert who spotted the one tonne stone in a photograph later confirmed it was actually a Buddhist temple step – up to 1,300 years old.
It was put up for auction with a pre-sale estimate of £30,000 to £50,000 but sold yesterday for ten times as much – £553,250.
Mrs Hickmott said she was 'over the moon' at the sale, and that rival auction house Sotheby's had previously shown no interest in helping her research the origin of what she called 'The Pebble'.
And she told how she was also turned down by producers of BBC1's Antiques Roadshow.
She likened the response of Sotheby's and the BBC producers to that of shop staff in hit film Pretty Woman who famously refuse to serve Julia Roberts – and miss out on a fortune when she goes on a spending spree.
Mrs Hickmott said: 'They have had a Pretty Woman moment. It was a big mistake. I bet they are kicking themselves now.'
She added: 'We are over the moon. We did not have a clue what 'The Pebble' would sell for.
'It was very exciting and as the amount increased we were left speechless and holding our breath.
'I have loved 'The Pebble' virtually all my life. I always knew it was something special – but never knew how special.
'A few years back when I was trying to research what it was, Sotheby's turned it down.
'I also tried the Antiques Roadshow but the producers said they knew nothing about it.'
It was not until Sam Tuke, from the Exeter branch of Bonhams, showed the step to the auction house's art experts in London that its origin was identified. Mrs Hickmott said: 'That is the first time we realised what we had got in the garden but we never expected it to make anywhere near as much money.
'We shall be sharing the proceeds with our family – our brothers and sisters and children.
'But for now we are celebrating in London. I am going shopping tomorrow.'
The museum piece from the Anuradhapura period, between 400BC to 1017AD, is decorated with carvings of lions, horses, elephants and birds. It is said to symbolise the four stages life – growth, energy, power and forbearance.
Bonhams spokesman Julian Roup said: 'There was a huge amount of interest so it wasn't that much of a shock, though we didn't expect it to sell ten times the estimate.
'The Hickmotts are absolutely delighted. To say that they were astonished is something of an understatement.'
Sri Lanka's ancient city of Anuradhapura is now a Unesco world heritage site. It is just one of seven temple steps from the ancient Sri Lankan city of Anuradhapura left in existance today.
The popularity of ancient Eastern art has greatly increased in recent years and the step is expected to sell for a £30,000 to £50,000 when it goes on sale at an auction. The city of Anuradhapura is the greatest monastic city of the ancient world that dates from the middle of the 5th century BC. It is today a UNESCO World Heritage Site. (Daily Mail UK)