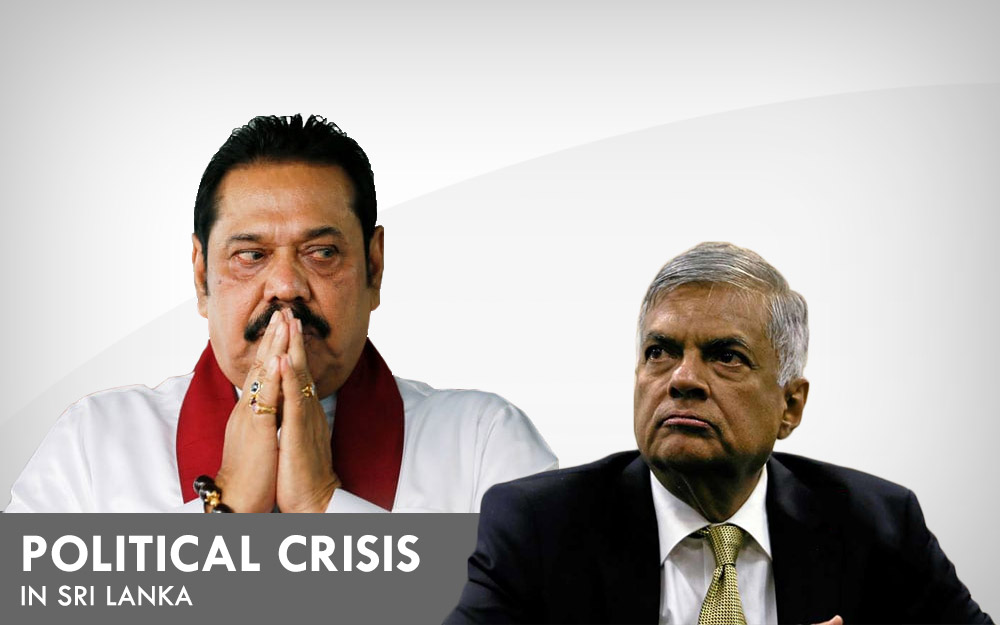 Two men each claim to be the prime minister. Lawmakers are exchanging blows in Parliament. A former finance minister says the country is on the brink of an "economic anarchy."
Welcome to Sri Lanka, where the political crisis is getting worse by the week.
The trouble started when President Maithripala Sirisena, fed up with disagreements with his prime minister over money, an alleged conspiracy plot and unresolved issues of wartime crimes against civilians, fired Ranil Wickremesinghe and his Cabinet and replaced them with a government headed by a popular former strongman, Mahinda Rajapaksa.
But lawmakers balked and twice passed a no-confidence motion. Sirisena, however, refuses to accept that his choice of prime minister has been defeated.
Jehan Perera, head of the local analyst group National Peace Council, said that the government appointed by the president can't be called legal because Sirisena had not sought a parliamentary vote when he dismissed Wickremesinghe.
"It can be called illegitimate because provisions for a confidence vote in Parliament are being blocked by the president's own party through their riotous behavior," Perera said, referring to a brawl last week that was followed by another pandemonium in the chamber when Rajapaksa loyalists refused to let the speaker conduct proceedings.
Wickremesinghe says his dismissal is invalid because he still holds a majority in the 225-member Parliament. The dismissal is also disputed because of a latest constitutional change, which lawyers say has taken away presidential powers to dismiss the prime minister.
Despite all the drama and two rival prime ministers, life hasn't collapsed – thanks to the efficient bureaucracy that keeps the wheels of administration turning.
Even though there is no Cabinet recognized by Parliament, and despite warnings by Wickremesinghe supporters that state officials should not take orders from an "illegal government" of Rajapaksa, bureaucrats continue to work with the president who is the chief executive and the ministers appointed by him, officials said on condition of anonymity because they are not authorized to speak to the media.
However, decisions regarding new projects or purchases involving large sums of money are on hold.
The absence of a recognized government has delayed the budget for 2019. Mangala Samaraweera, who was finance minister in Wickremesinghe's Cabinet, said that there will be no legal way of spending money in the coming year without a parliament-approved budget.
Sri Lanka's Constitution says that control over public finances lies with Parliament and no funds can be released without a warrant signed by the finance minister and approved by the legislature. That means all government payments starting from January can be deemed illegal, Samaraweera says.
Sri Lanka is on the brink of an "economic anarchy and chaos as never experienced before."
"The cavalier and irresponsible actions of the president … based on personal animosities and precipitating a series of illegal acts, places at risk Sri Lanka's ability to meet its immediate debt obligations," he said.
Sri Lanka has to repay $1 billion of its foreign loans in early January, which is also in the prerogative of Parliament to approve.
Wickremesinghe's lawmakers have presented a motion to the speaker seeking to block funding to the prime minister's office, which if passed, would curtail Rajapaksa's functions.
"As far as the people are concerned, they are witnessing the normal functioning of the country," insisted government spokesman Keheliya Rambukwella.
However, he conceded that Sri Lanka will have issues on accessing government money if the stalemate is not resolved by the end of the year. Snap elections are set for Jan. 5.
(AP / The Washington Times)