23kg heroin seized in Punjab: Red alert issued on Lankan druglord
Posted by Editor on June 10, 2014 - 1:00 pm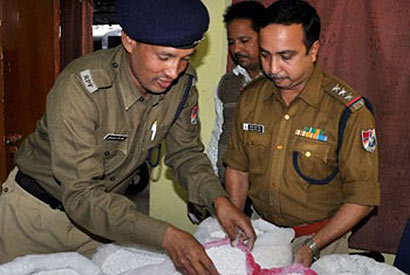 Punjab Police Monday claimed to have busted an inter-state and international drugs gang, and recovered 23 kg of heroin in the last four days. Five druglords have been arrested in this connection while red alert has been issued on a Sri Lankan.
These five drug lords are Surinder Kumar (Uttar Pradesh), Ajit Singh (Jalandhar), Varinder Sandhu (Abohar/Canada), Gurjit Singh (Tarn Taran) and Harjinder Singh (Amritsar).
The seized heroin is worth Rs.115 crore in the international market, police said.
Inspector General (Counter Intelligence) Gaurav Yadav said operations carried out in Amritsar, Tarn Taran, Jalandhar and Patiala June 6-9 led to the uncovering of the drug racket.
"Following up on the arrests of druglords in the state, police parties have been dispatched outside Punjab to nab their absconding associates. The chain of one cartel busted by Jalandhar police starts from one 'Bagga Chairman' of Lahore and culminates at one 'Anaten' of Sri Lanka (based in Delhi), with several Afghans in various links. Further investigation in this direction is continuing," Yadav said.
Police also recovered over Rs.76 lakh in cash, weapons and ammunition, cars, 3,000 kg of precursor chemical pseudoephedrine and Pakistani mobile SIM cards from the arrested people.
"The druglords were leading an affluent lifestyle using luxury cars, single digit cell phone numbers and have a penchant for flashy clothes and branded items. They had amassed property and built palatial houses using drug money.
"Their property details are being verified and process will be initiated to freeze and confiscate the ill-gotten money from the drug trade," Yadav said.
Punjab Police had last year busted an international racket of synthetic drugs worth nearly Rs.6,000 crore in the state and arrested nearly 50 people.
Punjab police issued a red alert on two drug lords, one from Sri Lanka and another from Nigeria, for their alleged role in heroin trafficking from north Indian states to rest of the country and abroad.
While the Sri Lankan is known by his pseudonym Anaten, the Nigerian kingpin is nicknamed Otto.
Anaten is wanted by Jalandhar cops for running a heroin racket through Punjab. He has been named by one of his middlemen Ajit Singh Jeeta after the cops recovered three kg of heroin worth Rs 3 crore from him last week.
PTI/TOI
Latest Headlines in Sri Lanka