247 families receive lands cleared of land mines
Posted by Editor on July 11, 2011 - 1:08 pm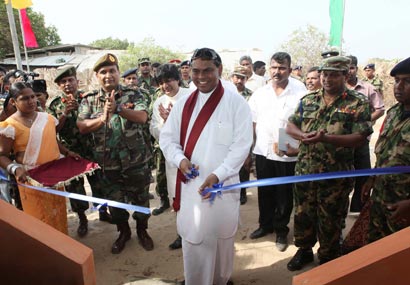 Minister Basil Rajapaksa  on Sunday (10) officially handed back the lands to 247 families in Thanankilappu area in the Chavakachcheri- Pooneryn road after it was cleared of land mines by the Sri Lanka Army.
The minister speaking on the occasion said that the government has given the first priority to uplift the living conditions of the people who were badly affected by the thirty year war. Now the displaced people have been fully resettled in the Jaffna district. Once the mine clearing in certain places in Mullaitivu is cleared they too would be resettled soon.
The military has also constructed 45 houses for the poorest of the poor in the area and made the infrastructure facilities enabling the peasant to engage in cultivation activities.
00p21The minister speaking said that the Chavakachcheri – Pooneryn road via Thanankilappu will be developed as a carpeted road to make it as link road between the A-9 highway and the A- 35 highway over the Sangupitty new bridge. The Minister said once this link road is developed the lands and property value in these areas will go up.
"pl do not sell your properties and wait for the development of the road that will bring you the pride and vale for your properties" was message to the people of the north.
The minister also made the initiatives for other facilities such electricity supply, water supply and a bus service was also inaugurated.
As an immediate assistance the minister sanctioned required money to provide 200 latrines each to all 15 DS divisions in the Jaffna District.
zcvbClearing of land mines is the most dangerous, important and the professional task being handled by the Army continuously in the entire northern region. NGOs involved in mine clearing  do handle it only between 8.30 and 4.00 pm for a period of two weeks. The according to international requirement the people employed are given a break and as a result of it, the mine clearing by the NGOs was not a continuous process.
In order to fill the vacuum of this  time consuming exercise the Sri Lanka Army is now handling the task on a continuous basis and this has resulted in completing the resettlement of IDPs the Jaffna district last week with the last group of people were resettled in the presence of Minister Basil Rajapaksa
With normalcy returns to Jaffna the local tourism has boosted and with the lifting of travel restriction on foreign passport holders it expects further increase in the values of properties there. The expatriate Sri Lankans are seems to be gradually visiting their places of living and they are engaged in modernizing their homes to be converted as tourist guest houses.
The authorities say the number of applications they receive to register Guest Houses is on the increase as it has become a lucrative business. A housing unit so converted as Guest House is rented out to Rs 7000.00 to 10,000.00 per night.
Courtesy: Government News Portal
Latest Headlines in Sri Lanka