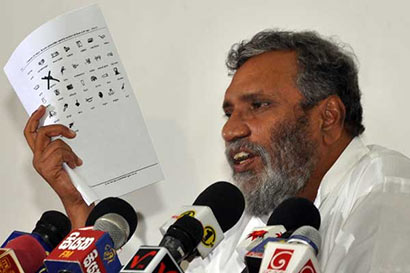 Elections Chief Mahinda Desapriya said today the Department would use see-through plastic ballot boxes imported from Kenya for the forthcoming elections to the Western Provincial Council.
"We have 250 plastic ballot boxes. We will use them this time in the Colombo area on a experimental basis," Mr. Desapriya told a news conference this morning.
He said the Treasury had instructed him to opt for the use of locally manufactured plastic ballot boxes as a cost cutting exercise.
"Wooden ballot boxes are very expensive. We are going to use plastic ballot boxes manufactured locally out of recycled plastic waste. It will be cost effective for us," he said.
Meanwhile, Mr. Deshapriya said the Department had extended the period for accepting applications for postal voting till February 10.
"We will not back down from the new stand. It is a fixed date. There is no bargaining on it. You cannot bargain whenever there is a fixed price on a product at a super market. This is also like that," he said.
(Courtesy: DM Online)