A Chinese flag flies over Sri Lanka as China extends its reach into India's backyard
Posted by Editor on January 6, 2018 - 9:21 am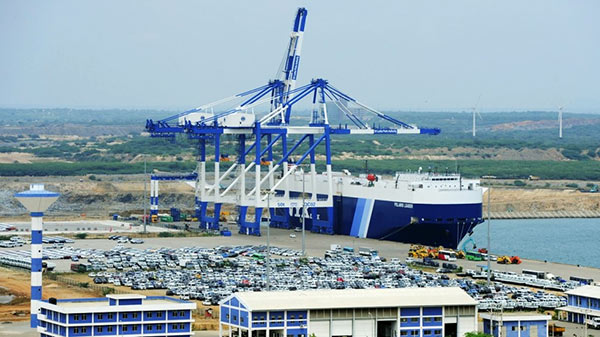 On the first day of the new year, the Chinese and Sri Lankan flags were hoisted to the same height over the Hambantota port in the Indian Ocean nation.
It was the first time the Chinese flag had risen over the loss-making facility which Sri Lanka formally handed over to a Chinese state firm in a US$1.12 billion deal.
The port deal is just one of a series of infrastructure forays China has made into Sri Lanka in a region usually regarded as India's backyard.
The projects are part of China's vast "Belt and Road Initiative" to link the country through land and sea trade routes to Africa and Europe and beyond.
The latest was announced on Tuesday when the Sri Lankan government said a Chinese-led consortium would build three 60-storey office towers next to the main port in the capital of Colombo, the region's only deep-sea container facility.
Next door, China has earmarked US$1.4 billion for reclamation work for the wider Colombo International Financial City development, a project expected to become the first mid to high-end financial hub in South Asia and home 250,000 people.
The project was put on hold in 2015 over a "lack of necessary documents" when a new administration came to power, and work only got back on track in August the next year when state-owned China Communications Construction Company entered into a fresh agreement with the new government, despite geopolitical concerns from regional superpower India.
Wang Dehua, director of the Institute for Southern and Central Asian Studies at the Shanghai Municipal Centre for International Studies, said Colombo wanted to fast track its development in the same way that Chinese cities such as Shenzhen sprang up.
"They cannot develop by relying only on themselves. They need economic reform and opening up, and to learn from the experience of China," Wang said.
In addition to helping Sri Lanka develop, China's investment in the two ports in the strategically important nation would help safeguard its own energy security when shipping oil along Indian Ocean routes, he said.
But there are concerns over the military implications of such deals. In September 2014, two Chinese submarines docked in Colombo, just as Sino-Indian ties were strained by territorial disputes in Ladakh on Indian's northern border.
In an attempt to ease Indian concerns, Sri Lankan officials said the Hambantota would not be used for military purposes.
Collin Koh, a maritime security expert at Nanyang Technological University in Singapore, said China's stakes in the Sri Lankan ports could be seen as an interim solution to guarantee China's energy security at the Bay of Bengal near Sri Lanka. But it was also likely to serve as a stopover point for Chinese vessels, including military ones.
Koh said assurances that the ports would not become navy bases were unlikely to impress India.
"People start asking, why would China want to buy two ports over there [in Sri Lanka]," he said. "Now that China has inaugurated its first overseas navy base in Djibouti, people will start asking: what is next?"
Rajeev Ranjan Chaturvedy, a research associate at the Institute of South Asian Studies at the National University of Singapore, said it was ultimately up to Sri Lanka to decide how far it wanted its relations to go with China.
"The Chinese presence and increasing influence is inevitable, and India realises this," he said, "[But] the local populace is upset due to the whole episode and exploitation of Sri Lanka's resources by Chinese."
(South China Morning Post)
Latest Headlines in Sri Lanka