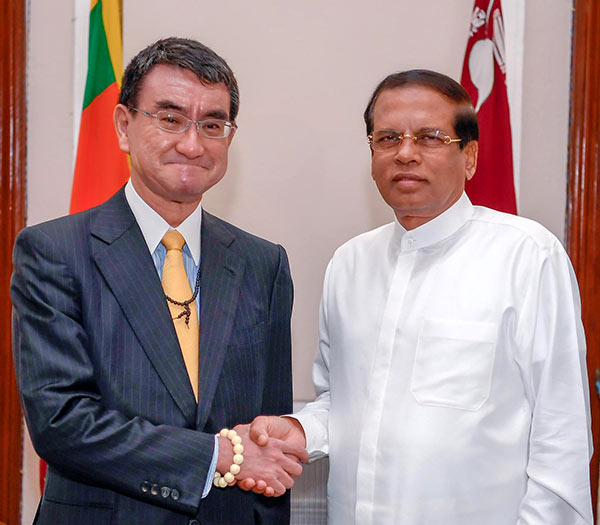 The Foreign Minister of Japan Tharo Kono said that the Government of Japan is ready to provide its fullest support for the development and reconciliation process of Sri Lanka.
He made these remarks when he called on President Maithripala Sirisena at the Presidential Secretariat, yesterday (05), during his official tour of Sri Lanka.
It is significant that a Foreign Minister of Japan visiting Sri Lanka after 15 years.
The Foreign Minister further said that already there is an excellent trade relationship between the two countries and said that a special delegation will arrive in Sri Lanka at the end of this month to further explore business and investment opportunities in the country.
President recalled the historic friendship between Sri Lanka and Japan and extended his gratitude for the continuous support given to Sri Lanka as a true friend.
During this meeting, the President specially appreciated the support given to Sri Lanka in the fields of education, agriculture, health, cultural as well as for the assistance in developing the infrastructure facilities of the country.
The President also thanked the government of Japan for rendering great support in locally as well as internationally during the past conflict period and extended his special thanks for the warm welcome he was accorded in Japan when he visited to attend G7 summit.
(President's Media)