Activists press for ouster of Sri Lanka bank chief
Posted by Editor on June 15, 2016 - 7:15 am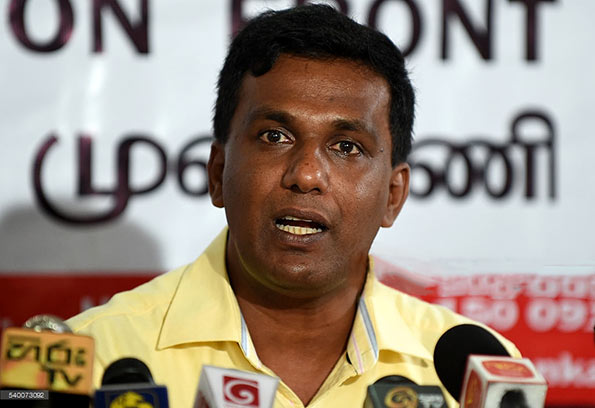 An influential group of Sri Lankan academics and professionals Tuesday called on the president to remove the country's controversial central bank chief over long-running insider trading allegations.
The powerful Anti-Corruption Front, credited with aiding President Maithripala Sirisena's election victory last year, said it would "take to the streets" if he did not terminate Arjuna Mahendran's governorship of the Central Bank of Sri Lanka.
Mahendran, whose tenure is up for renewal at the end of June, was accused last year of leaking inside information to his son-in-law's firm, allowing it to allegedly make millions of dollars in profits from a central bank bond auction.
An ad-hoc ruling party committee cleared him of direct involvement but pointed to unusual activity and called for a more thorough investigation, which has yet to be held.
"Don't allow Arjuna Mahendran to bleed the country," ACF convenor Keerthi Tennakoon told reporters in Colombo.
"Through the bond scam, he has caused billions of rupees in losses to the state."
Mahendran has consistently maintained his innocence.
Tennakoon said Sirisena should dismiss Mahendran, a Singaporean national of Sri Lankan origin, at the end of this month and launch a fresh investigation.
"If the president ignores our call and the demand of all reasonable thinking people of this country, we will not hesitate to take to the streets," he said.
Despite the claims and the pending investigation, Mahendran was again accused of favouring his son-in-law's firm in another bond auction in April this year.
The Anti-Corruption Front is also credited with leading a campaign to topple former strongman president Mahinda Rajapakse, who was accused of nepotism and corruption.
Sri Lanka's economy is under stress, and earlier this month began receiving the first tranche of a $1.5 billion bailout from the International Monetary Fund.
(AFP)
Latest Headlines in Sri Lanka