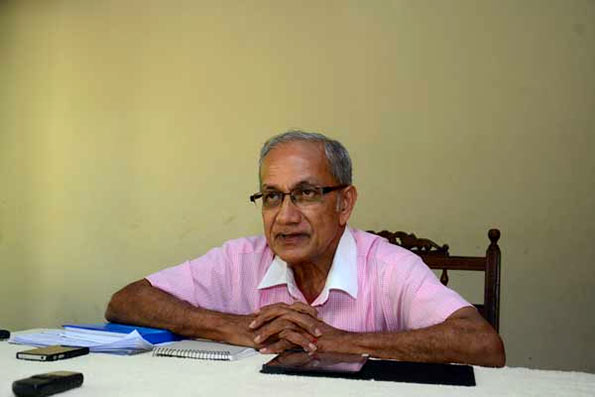 Former leader of the Janatha Vimukthi Peramuna (JVP) and General Secretary of the People's Servants Party, Somawansa Amarasinghe has passed away at the age of 73.
He had passed away at his residence in Rajagiriya, according to reliable sources.
Responsible for rebuilding the JVP after almost all of its top leaders were eliminated in 1989/1990, Somawansa continued to be the leader until his retirement in February 2014. He held the leadership for nearly 20 years.
MP Anura Kumara Dissanayake was appointed as the new leader of the Sri Lankan Marxist party, which is also known as the People's Liberation Front, at its seventh convention on Feb 2, 2014.
Somawansa Amarasinghe, who had offered to step down from the leadership at a politburo meeting due to the declining electoral fortune of the party, continued to remain in the central committee of the party and also served as its international affairs secretary.
However, Amarasinghe later quit the JVP to form his own party – the People's Servants Party in June 2015.  He said the decision was made on the grounds that the party failed to represent the true aspirations of the people.
Amarasinghe, a past pupil of Kalutara Vidyalaya, joined the JVP in 1969. Amarasinghe became a Politburo Member of the JVP in 1984.
Out of 14 members, he was the only Politburo Member who survived the Second JVP insurrection (1987-89). He fled the country and led the party from exile for nearly two decades.
He was the fourth leader of the JVP after Rohana Wijeweera, Saman Piyasiri Fernando and Lalith Wijerathna.
(Ada Derana)