Airport for Nuwara Eliya
Posted by Editor on October 5, 2011 - 6:44 am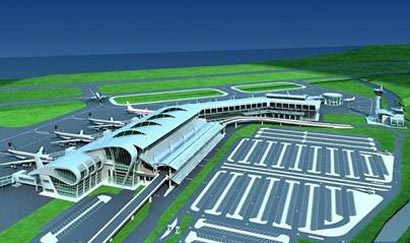 Measures will be taken to construct an airport in the Nuwara Eliya district, President Mahinda Rajapaksa said.
The President on Monday instructed the relevant ministers to identify suitable land for the purpose, the President's media said.
He was meeting politicians, professionals, the business community and party activists of the district at his official residence in Nuwara Eliya.
President Rajapaksa apprised the gathering on the development which is taking place within the Nuwara Eliya Municipal Council limits and those planned for the future.
The President said that the construction of a domestic airport in Nuwara Eliya was aimed at facilitating the city to reap maximum benefits of the booming tourism industry.
President Rajapaksa also described the massive development taking place within the country in every sphere and noted that Sri Lanka today had emerged as one of the strongest democracies in Asia.
Explaining Sri Lanka's impressive economic achievements in the recent past, the President said that unemployment had gone below four percent due to the rapid increase of new employment opportunities.
He pointed out that the number of females migrating for employment as domestic aides had reduced, and instead the number of skilled males going abroad for employment had increased to 54 percent.
The President had also sought information from officials on the progress made in road development in and around the city, the hospital development, renovation of estate roads etc. Those present explained to the President that the initiative to develop 25 square kilometres of every village had paid rich dividends in developing rural roads in the district.
The President had also apprised the gathering of the government initiative to eradicate malnutrition in the district.
While explaining the importance of developing the country to benefit the present and future generations, the President urged the gathering to commit themselves and join hands with the government to strengthen the development process of the city and the district.
Courtesy: Daily News
Latest Headlines in Sri Lanka