All must unite to create a strong social opinion against drug consumption
Posted by Editor on September 10, 2016 - 10:02 am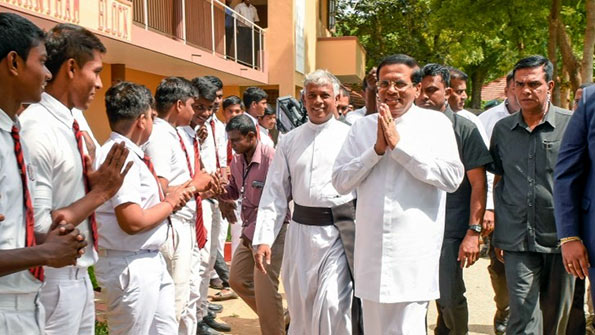 President Maithripala Sirisena says all must unite to create a strong opinion in the society about preventing drug consumption, which destroys the entire society and increases poverty among the people of the country.
He made these remarks participating at the Eighth phase of the "Drug Free Country" National Drug Prevention Program, held at the Jaffna Outdoor Stadium, yesterday (09).
The President requested all to fulfill their respective duties towards the Motherland and the nation while contributing to the initiatives taken by the Government to build a drug free country.
President Sirisena also pointed out that the most serious social menace that prevails in the North today is the drug menace and all should unite to save the people from this danger.
In 2015 the people of the Jaffna District have spent 2,206 million rupees for drug consumption.
Since the beginning of the year to present, 194 kgs worth of Kerala cannabis has been seized during the drug raids and 13 suspects were arrested in this connection. Many of them are between 20 and 25 years of age.
The President further said that only through stern regulations, acts and policies, we could control drug dealers. However, if strong criticisms arise against the drug dealers within the society, these illegal activities could be controlled to a certain extent, he said.
This programme has been jointly organized by the Presidential Task Force on Drug Prevention and the Jaffna District Secretariat.
During the ceremony, the President pinned official badges on five school students who committed themselves for prevention of drug menace. Awards were also presented to the officials of the Sri Lanka Police Department and the Civil Defence Department for their valuable service in the prevention of drug use.
Ministers and MPs, including Minister Sagala Ratnayake, State Ministers V. Radhakrishnan, Vijayakala Maheswaran, Angajan Ramanathan, MP, Former Minister, Douglas Devananda, State officials, including North District Secretary participated in this event.
(President's Media)
Latest Headlines in Sri Lanka