All Opposition parties, sans JO, now in 'Yahapalana' Govt., says MR
Posted by Editor on January 22, 2018 - 1:52 pm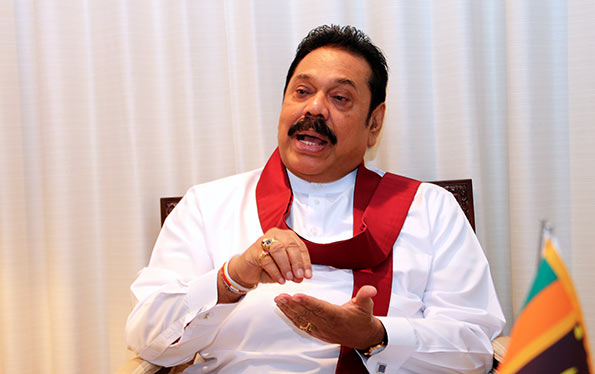 Former President Mahinda Rajapaksa yesterday claimed that while there was a yahapalana government in power there was a yahapalana opposition as well.
Issuing a statement, he said after the August 2015 parliamentary election, the UNP Speaker refused to recognize the joint opposition which had over 50 MPs as being a part of the opposition and gave the opposition leadership to the TNA, which had just 16 MPs, instead .
"The JVP which had six MPs was given the position of chief opposition whip. Hence, we now have a situation in this country where the joint opposition, which votes against the budget every year and opposes the government both inside and outside parliament, is not considered by the UNP Speaker to be a part of the opposition, while the TNA which always votes with the government during the budget and cooperates with them both inside and outside parliament is considered the main opposition.
The TNA and the JVP were included in the all-powerful National Executive Council which was formed over and above the Cabinet to run the country immediately after the 2015 presidential election. When an Anti-Corruption Committee was formed under the leadership of the Prime Minister for the purpose of persecuting and jailing members of the previous government, the JVP and TNA were once again given prominent roles in this set up. For example, the Urgent Response Unit of this Anti-Corruption Committee was placed under the personal supervision of JVP Leader Anura Kumara Dissanayake. In the first days of the yahapalana government, JVP cadres took over the functions of the police and raided various government and private premises searching for evidence of wrongdoings by the previous government.
When this operation was formalized in the form of the FCID, the leaders of the JVP and TNA continued to function in the Anti-Corruption Committee which controlled the new police unit. While masquerading as opposition political parties, the JVP and the TNA have supported every anti-democratic action taken by this government in the past three years. In August 2017, they helped the government pass a new local government elections law in contravention of the Constitution and the standing orders of parliament. A whole new election system was introduced as committee stage amendments to a Bill that had been introduced in Parliament to correct some technical errors in the then local government elections law. For the first time in parliamentary history, the Bill that was passed at the third reading in Parliament was not the Bill that was debated at the second reading," he said.
(Source: Daily Mirror)
Latest Headlines in Sri Lanka