Allow parliament to vote: UN chief tells Sri Lankan President
Posted by Editor on November 3, 2018 - 10:03 am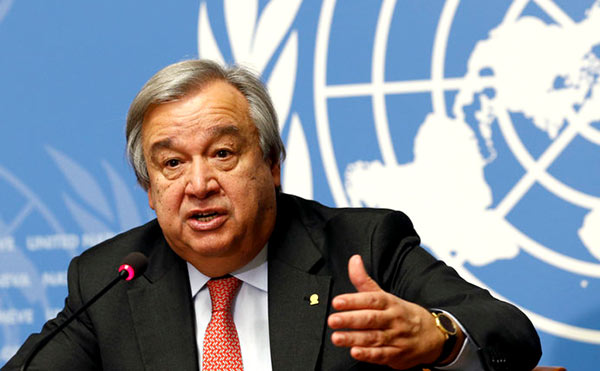 UN Secretary-General Antonio Guterres has urged Sri Lanka's President to allow parliament to vote on the appointment of a prime minister to end a political crisis in the island nation.
Guterres on Friday spoke by phone with President Maithripala Sirisena, who set off the crisis when he sacked Prime Minister Ranil Wickremesinghe on October 26 and replaced him with former president Mahinda Rajapakse.
The UN chief told Sirisena that he was following developments in Sri Lanka "with concern," and "urged the president to revert to parliamentary procedures and allow the parliament to vote as soon as possible," a UN statement said.
Guterres offered United Nations help to broker a dialogue between all the parties.
Sri Lanka's speaker has summoned parliament to meet next week after the president had suspended the assembly until November 16.
Wickremesinghe has refused to accept the dismissal and has remained bunkered at the prime minister's official residence for the past week.
The United States has also called on the president to reconvene parliament.
Readout of the UN Secretary-General's phone call with President Sirisena:
The Secretary-General spoke by telephone with Mr. Maithripala Sirisena, President of Sri Lanka, on 1 November.
The Secretary-General informed the President that he was following the latest developments in Sri Lanka with concern and offered assistance in facilitating a dialogue with all the parties to resolve the situation. He emphasized the Government's responsibility to ensure peace, security and respect for the rule of law.
The Secretary-General urged the President to revert to Parliamentary procedures and allow the Parliament to vote as soon as possible. He encouraged the Government to uphold its earlier commitments to human rights, justice and reconciliation, in line with Human Rights Council resolutions.
(Source: UN)
Latest Headlines in Sri Lanka