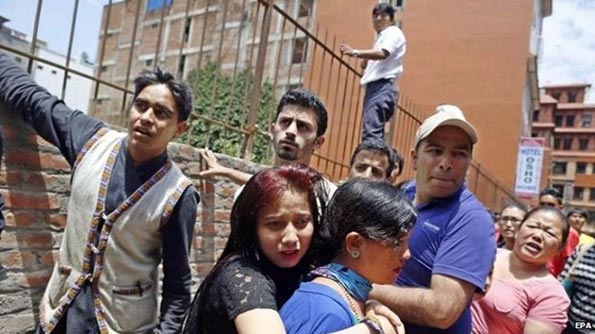 Six people have been killed and many more injured as another powerful earthquake hit Nepal, flattening buildings 30 miles away.
It comes less than three weeks after the impoverished country was devastated by a 7.8-magnitude earthquake, which killed at least 8,000 people and injured more than 17,800.
The US Geological Survey has upgraded the latest quake – which struck at lunchtime on Tuesday – from 7.1 to 7.3 magnitude.
It hit near the Everest base camp, and was measured at a shallow depth of about 12 miles (19 km).
The epicentre was around 40 miles west of Namche Bazar, a remote area near the China border.
It was followed by two aftershocks of magnitudes 6.3 and 5.6.
Four people died as several buildings, including a six-storey office block, collapsed in Chautara, Sindhupalchok, about 30 miles from the eipicentre.
Norway's Red Cross, based at a 60-bed hospital in the town, said there were "many injured, several killed".
Tino Kreutzer, who is in Chautara, said the quake lasted around 40 seconds as hundreds ran into the streets.
Chautara suffered the heaviest death toll in last month's quake, which flattened buildings and left thousands homeless.
The airport has been closed more than 50 miles away in the capital Kathmandu.
UNICEF communications officer Rose Foley said people sheltered under tables as buildings shook.
"Felt like walking on deck of boat as we made way to safety," she tweeted.
"Huge earthquake – shaking went on and on. Sheltering in open. Thinking of safety of children who've already suffered so much."
Aid agencies are struggling to get reports from outside the capital.
"We're thinking about children across the country, and who are already suffering. This could make them even more vulnerable," Ms Foley said.
Dilip Dhakal tweeted a photo of people crowding Durbar Marg street, in the centre of Kathmandu.
He said people were "panicked" and "some are crying and wailing".
Sulav Singh, who ran into the street with his daughter, said: "I thought I was going to die this time. Things were just getting back to normal, and we get this one."
Two people were reportedly killed as the tremors hit northern India. In the capital New Delhi, people fled outside as buildings swayed.
The quake was about two miles deeper than the 25 April quake. Shallower quakes tend to cause more damage at the surface.
Sky's Stuart Ramsay, who recently returned from Nepal, said: "The critical thing for those people is how many were moving back into their houses or were just sheltering during the daytime but otherwise sitting outside.
"In this instance, there will be a significant number of people who are not in buildings they might have been in, because they have already fallen down.
"You have got to assume that if they are living in tents outside, they will probably be right.
"The next group are the ones who had been outside, but the buildings had survived. They will definitely be weakened now. They may well have gone back in.
"The only good thing is that a lot of people who would have been in houses are not in those houses because they have already fallen over, as ironic as that might sound."
(Sky News)