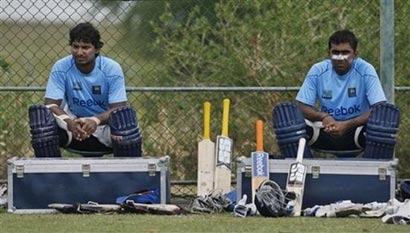 The new visa regulations introduced by the Australian High Commission in Colombo have inconvenienced Sri Lankan cricketers scheduled to leave for Australia on Dec. 02 for an eight-week-long tour consisting of three Tests, five ODIs and two T-20s.
The selectors should have waited till the ongoing Test series against New Zealand was over to name the squad for the cricket summer down under, but they were compelled to name the squad last week itself. The opening Test in Australia starts on Dec. 14 in Hobart, Tasmania.
Sri Lanka captain Mahela Jayawardene, asked what had prompted the authorities to name the squad so early, said, "One of the reasons was that we had to apply for visas in advance; there are many restrictions for Australian visa these days."
A Sri Lanka Cricket official said that world-class players like Kumar Sangakkara and Mahela Jayawardene were household names in Australia, but the new visa regulations demanded that all players be physically present at the Australian visa office, at Union Place, to be fingerprinted! He said the players had been left with no alternative but to comply with the visa requirement. "They should not treat our cricketers like illegal migrants," he said. "We know the boys are hurt but, sadly, we have to play according to their rules."
Although the Sri Lankans were previously able to obtain the Australian visa within a matter of hours, the current regulations mean that the processing of visas takes at least 15 working days.
Courtesy: The Island