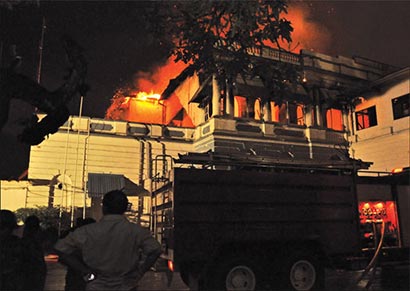 The Government Analyst Department has launched investigations into the fire that erupted at the Colombo Kachcheri on Monday night. Colombo District Secretary Mr. Kamal Padmasiri said all information and the keys of the building have been handed over to the Government Analyst.
The reason for the fire that lasted for several hours has not yet been determined. The District Secretariat said that the reason for the fire can be ascertained once the investigation by the Government Analyst is completed. At present the Police, the Government Analyst and the Ceylon Electricity Board are conducting investigations.
District Secretary Mr. Kamal Padmasiri said that many important documents have been lost in the fire and services have been disrupted due to the fire. He said that however, the District Samurdhi Division, the division that issues licences for firearms, the census unit and small enterprises division have not been affected by the blaze. He said that they can continue with the operations at those Departments from tomorrow. The main building with the administration and accounts division has been burnt.
Mr. Padmasiri also said that the accounts, administration and planning divisions have been transferred to the Thimbirigasyaya Divisional Secretariat on a temporary basis. (niz)
Source: Government News Portal