Australia presses Sri Lanka on missing activist
Posted by Editor on April 9, 2012 - 3:54 pm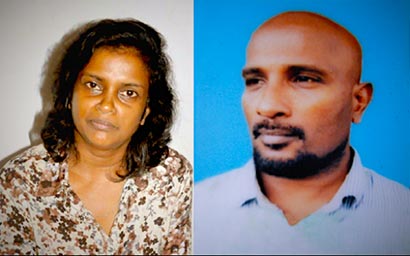 Canberra said it was seeking "urgent clarification" Monday on the fate of an Australian man reported by his family and political party to have been abducted in Sri Lanka over his activism.
Joint Sri Lankan-Australian citizen Premakumar Gunaratnam, 42, went missing on Friday from Kiribathgoda, north of Colombo, where he was preparing to launch a new political party, according to his family and fellow activists.
Gunaratnam is the leader of a breakaway faction of the JVP, or People's Liberation Front. The JVP led two failed bids to violently overthrow governments in 1971 and 1987 in campaigns that left up to 100,000 people dead.
His radical splinter group, the Frontline Socialist Party (FSP), claimed that Gunaratnam and women's wing leader Dimuthu Attygalle had been taken away by security authorities ahead of the party's formal launch due on Monday.
Australia's foreign office said it had received reports that Gunaratnam "may have been abducted."
"We are seeking urgent clarification on the situation from the Sri Lankan authorities," a foreign office spokeswoman told AFP.
Gunaratnam's wife, Champa Somaratna, said her husband was an ethnic Tamil but was not affiliated with the separatist Liberation Tigers of Tamil Eelam, defeated by Sri Lankan forces in 2009, ending a decades-long civil war that left up to 100,000 killed, according to UN estimates.
That JVP uprisings were unrelated to the civil war.
"He was arrested early in the morning. About 25 armed people entered the house. They threatened the neighbours and asked them to switch off the lights and close the windows and doors," Somaratna told Australia's ABC radio.
"Then they abducted him — there is evidence about that inside the house."
Somaratna said her husband was launching the FSP "because of the unlawful abductions and the human rights violations in Sri Lanka" and his role as the party's main political activist had "a real connection" with his disappearance.
The FSP has blamed the "state and the government" for Gunaratnam's disappearance but police say he is not in their custody and Colombo has denied any involvement.
The Hong Kong-based Asian Human Rights Commission on Sunday expressed concern for his safety and said it was "no secret that the government and the ministry of defence are concerned" about FSP's activities.
Rights groups have reported dozens of abductions since the end of the island's civil war in 2009, but at least some of the incidents appear to have been private disputes or underworld activities. (AFP)
Latest Headlines in Sri Lanka