Azath Salley arrested
Posted by Editor on May 3, 2013 - 8:25 am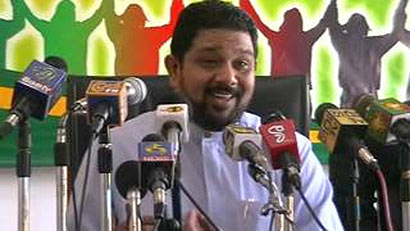 Leader of the Muslim-Tamil National Alliance (MTNA) Azath Salley was arrested by a team of CID officers yesterday morning from his daughter's residence at Gamini Road, Kolonnawa.
Police spokesman SSP Buddhika Siriwardene told The Island that Salley had been arrested on 'several complaints' and was being questioned by the CID. Attorneys-at-law Shiraz Noordeen and A. Mohideen went to the CID to assist Salley.
Later in the day, the Defence Ministry said that Salley had been taken in under the Prevention of Terrorism Act (PTA).
Later in the morning, he was admitted to the Colombo National Hospital under police guard, but after undergoing a check up, he was taken back to the CID office for further questioning.
Azath Salley's family members said that STF and CID officers had surrounded his daughter's residence at about 5.30 a.m. yesterday and Salley had surrendered to the CID at 7.45 a.m. He was then taken to CID Headquarters in Fort. His family was with him at the time of his arrest.
A relative of Sally told The Island condemned the police action and said his family was still in mourning for their mother who died 15 days back.
The one-time UNP Deputy Mayor of Colombo, Salley contested the last Local Government (LG) election successfully for the Colombo Municipal Council (CMC) on the UPFA ticket. He was an unsuccessful candidate at the Eastern Provincial Council elections for the Batticaloa District from the Sri Lanka Muslim Congress (SLMC) thereafter. Following the twin reversals he teamed up with the MTNA.
Several Opposition Parliamentarians, including Lakshman Kiriella (UNP), Dr. Harsha de Silva (UNP), S. Swaminathan (UNP) and Leader of the New Left Front (NLF) Dr. Wickremabahu Karunaratne visited the residence of Salley's daughter at Kolonnawa.
UNP Colombo District Parliamentarian Ravi Karunanayake, condemning Salley's arrest, said that the outspoken politician had stood by his community and resisted the government's anti-democratic acts. He said that anyone who spoke against the Mahinda Rajapaksa Regime faced harassment and that Salley's arrest was a travesty of justice.
Karunanayake questioned what the government was doing against Kumaran Pathmanathan alias 'KP', the LTTE leader and S. Chandrakanthan alias 'Pillayan'.
(Courtesy: The Island)
Latest Headlines in Sri Lanka