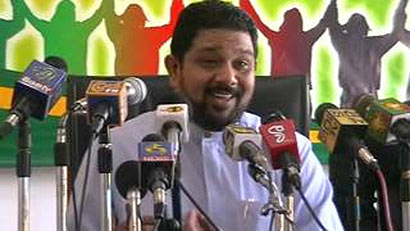 Former CMC member and National Unity Alliance General Secretary Azath Salley, who was receiving treatment at the Colombo National Hospital under CID custody, was released today.
He has been released unconditionally and has been transferred to a private hospital in Colombo, a family member of the politician told Ada Derana.
Salley was arrested on May 02 by the Criminal Investigations Department (CID) and investigated for allegedly threatened the peace of the country and unity among racial groups within the country, through statements made to electronic and print media.
His arrest under the Prevention of Terrorism Act (PTA) in connection with a statement made to the Indian publication 'Junior Vikatan' on April 24, 2013 had stirred controversy within the country with opposition parties condemning the act as "political revenge" by the government.
Salley had launched a hunger strike while in custody and was hospitalized on several occasions due to refusing meals and medication.
Director General of the Media Centre for National Security, Lakshman Hulugalla had said during a press conference that the CID are investigating 18 complaints including the statements allegedly made by Salley in Tamil Nadu and an alleged financial fraud.
(Courtesy: Ada Derana)