Bennet Cooray assumes duties as Sri Lanka's Ambassador to Italy
Posted by Editor on October 12, 2013 - 6:56 am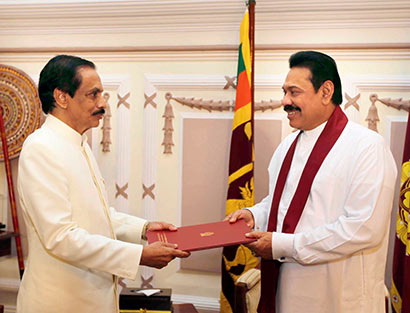 – by Janaka Alahapperuma – Pix by: Sudath Silva –
H.E. Ambassador Nawalage Bennet Cooray officially assumed duties as Sri Lanka's Ambassador to the Italian Republic at the Embassy of Sri Lanka on 09th October. He will present credentials to H.E the President of Italy, Giorgio Napolitano at the Quirinale- Presidential Palace in Rome in due course. Ambassador Cooray is the 17th Sri Lankan Ambassador to the Republic of Italy.
Ambassador Cooray will also be concurrently accredited as Sri Lanka's Ambassador to the Hellenic Republic (Greece), Cyprus, Malta, Albania and St Marino and will function as Sri Lanka's Permanent Representative to the Food and Agricultural Organization (FAO) and several other international organizations based in Rome such as the World Food Programme (WFP), International Fund for Agricultural Development (IFAD) and International Centre for the Study of the Preservation and Restoration of Cultural Property (ICCROM).
Recently Ambassador Cooray collected his credentials from President Mahinda Rajapaksa. The ceremony of handing over credentials to the newly appointed Sri Lankan Ambassador- designate to Italy was held at Temple Trees. This high profile position was vacant for months since the former Ambassador late Asitha Perera was recalled to the island before he finished his term. The much speculated appointment of Ambassador Cooray has been finalised after a lapse of seven months after his controversial predecessor Asitha Perera departed to Colombo. At the same time our Sri Lanka External Affairs Ministry source in Colombo confirmed the long awaited appointment of Ambassador Cooray for Italy has been finalised.
Since then Mrs Gothami Indikadahena Minister (Commercial) and Deputy Permanent Representative of Sri Lanka to FAO who is an experienced and senior career diplomat was appointed as the chargé d'affaires a.i. (Acting Ambassador) to carry out the diplomatic duties and continue bilateral relations in Italy. She is also the current Chairperson of the Group of 77 and China in Rome Chapter and previously served as Acting Consul General of Sri Lanka in Sydney, Australia.
Popular social worker in Kolonnawa and Mulleriyawa areas, Nawalage Bennet Cooray entered politics in 1964 as a member of the Mahajana Eksath Peramuna (MEP) and joined the Sri Lanka Freedom Party (SLFP) in 1970. He was the Chairman of Kottikkawatte Pradeshiya Sabha in 1991. Elected to Western Provincial Council in 1994, he successfully contested the General Elections from Colombo District and entered to the Parliament in the same year. He was appointed as the Deputy Minister of Transport and Highways in the People's Alliance Government in 1999. Ambassador Cooray previously served three years as the Sri Lankan envoy to Manila, Philippines and Chairman and Managing Director of the Sri Lanka Export Credit Insurance Corporation.
Ambassador Cooray is also the founder and the chairman of the Hansa Foundation which is a non-profit charity organisation helping and assisting low-income and vulnerable individuals and families through grants and provided free books and writing materials to poor school children. He also utilised his parliamentary salary to provide 3000 scholarships to the poor children in the area. He started Kato Iku Montessori School and Day Care Centre, Sri Lanka-Japan Friendship Hall, Nishimoto Masako Memorial Library, Gothatuwa Hansa Library, Gothatuwa Tagasishi Montessori and Pubudu Sports Club and also established many Montessories, libraries, schools, Ayurvedic medical centres, religious places, sports clubs, community centres and halls in Mulleriyawa, Angoda, Kottikawatte, Ambatale, Gothatuwa and other towns in the Kolonnawa electorate. There are many other social, cultural and educational charity projects in his credit too. Cooray's philanthropic work and his charming character, made him popular among all walks of people in Kolonnawa electorate.
Latest Headlines in Sri Lanka