BJP says protests over President Rajapaksa unfair
Posted by Editor on December 11, 2014 - 10:28 am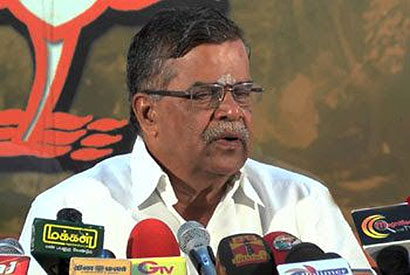 Indian Bharatiya Janata Party leader L. Ganesan said that the refusal to meet and talk to the Sri Lankan President and at the same time, demanding a resolution of the Tamils' issue was similar to asking a doctor to cure sick persons without seeing them.
Referring to media reports that Indian fishermen may abide by a seasonal moratorium on fishing across the International Maritime Boundary Line, Mr.Ganesan said the Central government would talk to the Sri Lankan government and evolve a permanent solution to the fishermen issue.
Once the Centre evolved a permanent solution to the fishermen's issue, the naysayers, who called the BJP's efforts "mere drama", would become silent, he said. Asked about the political opposition to Mr. Rajapaksa's visit to Tirupati, he said it was unfair to prevent somebody from pursuing one's personal belief.
Mr. Ganesan condemned the attack on journalists from Tamil Nadu covering the Sri Lankan President Rajapaksa's visit in Tirupati.
He was at Thorapalli in Hosur to pay tributes to C. Rajagopalachari here outside his birth place , on the occasion of the late leader's birth anniversary. The BJP leader said it was an attack on the freedom of press and that the party strongly condemned the "act of excess" by the Andhra police.
(The Hindu)
Latest Headlines in Sri Lanka