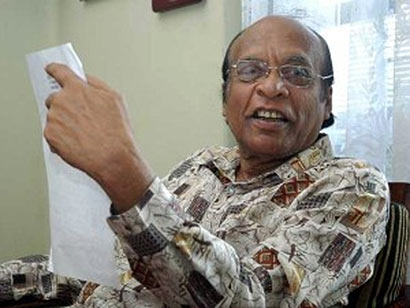 One-time Chairman of the Committee on Public Enterprises (CoPE) Dew Gunasekera yesterday declined to comment on state banks, Bank of Ceylon, the People's Bank and the National Savings Bank receiving instructions twice in 2016 to make bids at the treasury bond auctions at lower interest (yield) rates as that particular matter hadn't been investigated by his committee.
General Secretary of the Communist Party Gunasekera said so when The Island asked him how his committee had failed to unravel state banks receiving instructions inimical to them from the then Finance Minister Ravi Karunanayake. "My committee probed the first controversial issuance of treasury bonds in late Feb. 2015 just eight weeks after the change of government."
The second COPE probe dealt with both transactions, Gunasekera said, adding that specific instances of political interference and officials' complicity at various levels had to be established. Gunasekera said that he was really perturbed by state banks assertion how they were misled by the very minister in charge of them. The complicity of politicians and public and private sector officials in alleged bond scams was frightening, he said.The former minister pointed out that the revelations had been made at the Presidential Commission of Inquiry (P-CoI) on Wednesday pertaining to the second alleged bond scam involving the CBSL and influential Primary Dealer (PD) Perpetual Treasuries Limited (PTL).
The veteran politician recalled how Karunanayake, in spite of being appointed finance minister in President Maithripala Sirisena's 100-day administration remained a CoPE member. People had forgotten that in the wake of January 2015 presidential election defeat, the government, too, changed to pave the way for first bond scam.
Gunasekera said the then Speaker Chamal Rajapaksa had told him to select a special team comprising CoPE members to probe the scandalous transaction. According to CP veteran, Karunanayake hadn't been included in the first ever CoPE team appointed outside usual procedure. Gunasekera explained that until then all CoPE investigations had been based on Auditor General's findings in respect of public enterprises. There had never been an instance where the CoPE had been asked to inquire into a transaction before the Auditor General scrutinized it, Gunasekera said.
In the light of the then Finance Minister giving adverse instructions to state banks as transpired at P-CoI, Gunasekera emphasized the urgent need to review safeguards in place to prevent recurrence. Gunasekera pointed out that the second far bigger and damaging issuance of treasury bonds had taken place over a year after the first alleged scam.
Responding to another query, Gunasekera said that the Monetary Board had suspended the PD under a cloud in early July 2017 for a period of six months. Since then there had been significant developments at the P-CoI and Monetary Board would certainly have to take them into consideration before deciding on renewal, Gunasekera said.
Former Deputy Governor of the Central Bank Dr. W. A. Wijewardena yesterday told The Island that both politicians and officials alike had acted in contravention of rules and regulations governing banking operations. Dr. Wijewardena said that obviously all concerned had carried out the 'business' with impunity and weren't bothered at all about serious violations.
Dr. Wijewardena said against the backdrop of the top management of state banks assertion that they had received wrong advice pertaining to March 2016 transaction, it would be pertinent to establish who had actually authorized the Chief Dealer at the Bank of Ceylon (BC) to bid Rs 13 bn on behalf of PTL.
The expert who had advised a three-member team of lawyers appointed by Premier Wickremesinghe to probe the first alleged scam and Dew Gunasekera's committee said that as the Chief Dealer lacked authority to commit such a huge amount of funds he would have had to certainly clear that transaction with BC superiors .
Dr. Wijewardena said there hadn't been a thorough examination into serious violations of internal controls and safeguards in state banks though the top management recently admitted them being deceived by the minister in charge of the subject.
If not for the P-CoI, the issuance of controversial ministerial instructions wouldn't have come out, Dr. Wijewardena said, urging review of safeguards.
When Chairmen of state banks realized that they had been wrongly advised what did they do? Dr. Wijewardena asked.
Dew Gunasekera said there hadn't been any indication that they had taken up that matter until P-CoI launched fact finding probe.
Current Chairman of CoPE responsible for the second parliamentary inquiry, JVP MP Sunil Handunetti couldn't be contacted as he was overseas.
(Source: The Island – by Shamindra Ferdinando)