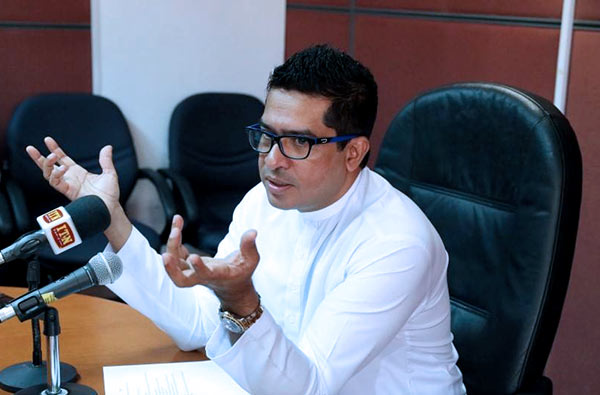 State Minister Sujeewa Senasinghe affirmed that he had contacted the Owner of Perpetual Treasuries Limited, Arjun Aloysius in an effort to gather details for his book that he was authoring related to the sale of Treasury Bonds and also in a bid to clarify certain other issues and to verify a few other details.
The State Minister made this remark speaking to reporters during a press briefing held at Sirikotha yesterday (21).
He added that "during the Committee on Public Enterprises (COPE) proceedings it was I who questioned at length regarding former Central Bank Governor Arjuna Mahendran. I have always worked to uphold the status of the United National Party (UNP) and have never tarnished its image through my actions. I can also challenge anyone to prove that I have earned even a cent by having pawned the respect and traditions of this grand old party. Thus far nowhere has it been mentioned that any person is guilty of the Bonds scam. Also, the COPE Committee cannot deem anyone guilty of any charge."
"Although it has come to light that Perpetual Treasuries Limited has been involved in this scam, we have thus far not had any proof to level charges. We were only able to deem that they had earned a hefty amount of illegal revenue in a short period. Even when I had penned a book regarding the Bonds scam, I was never summoned before the Presidential Commission of Inquiry.
Furthermore, the Commission should have probed the bonds sales not from 2015, but since 2008. If that had taken place all necessary details could have been exposed. A majority wanted to prevent a group of young and bright UNP MPs from coming to the fore by slinging mud at them. Why was only a Commission set up? Why were such Commissions not formed to probe the low quality petrol, the MiG Scandal and the ship deals, etc?"
(Source: Ceylon Today – By Upatissa Perera)