Bread price goes up
Posted by Editor on October 29, 2012 - 11:52 am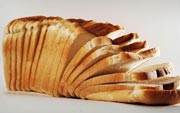 The price of a 450 g of loaf of bread would be increased by Rs.2 with effect from midnight today, the All Ceylon Bakery Owners' Asscoaition Chairman N.K.Jayawardana said.
The decision to increase the prices of all bakery products including the bread has been taken following the price hike of wheat flour last Friday.
Mr. Jayawardene said that bakery owners met this morning to make a final decision on revised prices. The price of Prima flour was increased by Rs 6 and Serendib flour by Rs 4 a kilogramme from midnight on Friday.
Courtesy: DM Online
Latest Headlines in Sri Lanka