British Sri Lankan Forum protests against Cameron's interference
Posted by Editor on December 22, 2013 - 8:47 am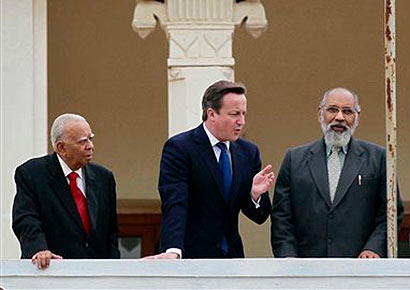 The British Sri Lankan Forum – UK has accused Britain's Prime Minister, David Cameron of becoming a 'virtual representative for the Tamil Diaspora at the Colombo CHOGM conference".
Following Cameron's interference with Sri Lanka's internal politics during CHOGM, the Forum handed over a petition to the British Prime Minister last week.
Cameron's interference in the domestic affairs of another democratic nation was a dream come true for LTTE supporters who benefited enormously by the publicity the antics generated, the petition said.
"We need not elaborate that it was the same Tamil Diaspora, which funded a 30 year brutal war, partly from the benefits they received from the British Government whilst being political refugees. As such we feel that you have let down the British Tax payers", it noted.
"Need we mention the money laundering, the drug trafficking, credit card fraud which the members of the Tamil Diaspora have been found guilty of in the UK and worldwide?", the petition asked.
The petition also brought to the attention of the UK Government that the LTTE remains a proscribed foreign terrorist organization since 2001, but numerous fronts attached to the LTTE continue to operate very actively in the UK and internationally.
"Now, these LTTE fronts have flexed their muscles to tap into the purses of indigenous British citizens through various illegal operations. Credit card scams across 200 petrol sheds in the UK have resulted in British citizens having their credit cards cloned. Even the spouse of Conservative Party MP Andrew Selous (South West Bedfordshire) has become a victim", the petition pointed out.
These LTTE fronts have made their money by swindling the British public and are using these ill-gotten gains to canvass Parliamentarians by funding their election campaigns. Misusing charity status has left millions being siphoned off from the UK to fund terror. Moreover, these are violations of the rights of the people kind enough to give for a cause, and that cause is not terror", it said.
How many British citizens would feel upset that over the years they have given to charities like the Tamil Rehabilitation Organization (TRO), White Pigeon etc. who have used this money to fund LTTE terror? Is this not the reason that the TRO has been stripped of its Charity status by UK?", the petition further queried.
British Sri Lankan Forum – UK requested the British Prime Minister to consider not only Tamil views but also both Sinhala and Muslim views when the British Government is taking decisions pertaining to Sri Lanka.
President of the British Sri Lankan Forum – UK, Janaka Alahapperuma told The Sunday Island that they received a letter from the British Prime Minister's office saying that their correspondence is currently under consideration.
(Courtesy: The Island)
Latest Headlines in Sri Lanka