Buddhism's position in Lanka won't change: President Sirisena
Posted by Editor on October 23, 2016 - 9:52 am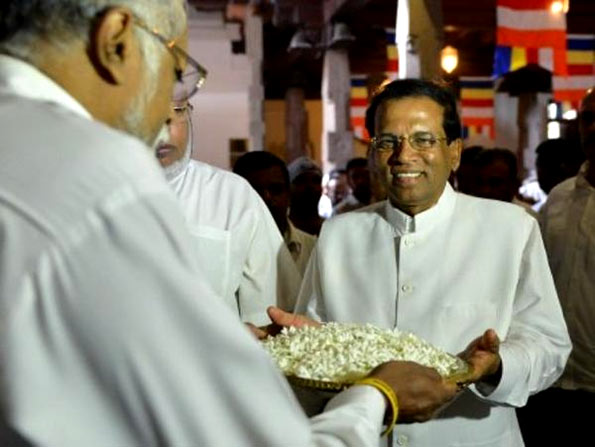 The foremost place accorded to Sri Lanka's majority religion of Buddhism will be preserved in its new Constitution, President Maithripala Sirisena has said.
"Buddhism's position, coming since 1972, will not be changed," Sirisena told a religious gathering in the eastern port district of Trincomalee on Friday.
Dismissing the Opposition claims that Buddhism's position in the country is to be diluted in the new Constitution, the President said: "We have not finalised anything yet."
Tamil and some other minority groups in the country want the new Constitution to be a secular one with no religion being given the foremost status.
A recent statement by Prime Minister Ranil Wickremesinghe that no group has any objection to Buddhism's foremost position in Sri Lanka was contested by the Tamil National Alliance.
The draft of the new Constitution is expected to be ready by the early part of next year.
The new Constitution is also expected to address the Tamil minority demand for political autonomy.
(Source: PTI / DeccanChronicle)
Latest Headlines in Sri Lanka