Buddhist Diplomacy in PM Sirimavo Bandaranaike's Foreign Policy won World Respect for Sri Lanka
Posted by Editor on June 27, 2013 - 7:21 am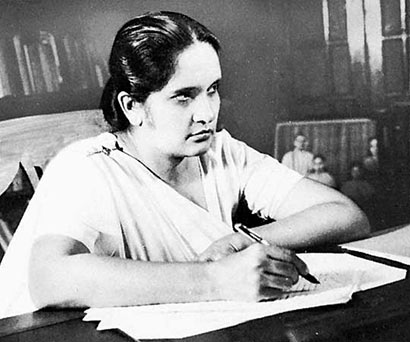 – by Shenali D Waduge –
No post – independent Government won as much global plaudits for Sri Lanka's foreign policy as during the time when Mrs. Sirimavo Bandaranaike was Prime Minister. The country witnessed a string of foreign policy successes one after the other mainly during her first two terms of office i.e. 1960 – 1965, and 1970 – 1977.  What was the basis of her foreign policy?
In her own words "The Buddhist principles 'pancha seela' governed the tenets of our foreign policy and we made the world aware of this praiseworthy principle". Mrs. Sirimavo Bandaranaike's successful intervention on behalf of the Colombo powers to mediate in the Sino – Indian war which erupted in October 1962 helped 'to build the image of Buddhist Sri Lanka as a force for 'ahimsa', for peace and goodwill in the world' (refer  Sirimavo Bandaranaike, the world's first woman Prime Minister by Maureen Seneviratne).
Her unqualified achievements in the international arena can be remembered with pride and deserve to be used even now as yardsticks for review and re- direction of Sri Lanka's current 'foreign policy' given Asia's current importance.   
World's First Woman Prime Minister
The bravado with which surrounds a personality in the form of Sri Lanka's and the World's First Woman Prime Minister is nothing that can be said enough to keep the memory of her service to Sri Lanka and the world alive. A hallmark of her leadership was that she knew what she wanted to do, she ensured she had the right advice coming from advisors knowledgeable enough and people who gave advice placing the interest of the country first. She had a group of learned men and women who ensured some of the decision she took elevated Sri Lanka, small as it was, high up on the international podium. Never did she dilute or compromise the nation's Buddhist identity instead she aligned it to her foreign policy tying up the countries of Asia whilst also carving out a group of nations that would not be part of any Cold Wars.
When the visiting Thai Prime Minister, Ms Shinawatra in her address to the Sri Lankan Parliament opened her speech by stating "I am deeply honored to be addressing the same Parliament, where the world's first female Prime Minister Sirimavo Bandaranaike once led the government" that shows Mrs. B as she was fondly known is still remembered and respected the world over.
Her leadership showed that even without academic qualifications, common sense and national pride suffices to lead a nation surrounding oneself with patriotic advisors who put country first.
Leader of the Non – Aligned Movement
Her destiny was enshrined becoming the world's first woman Prime Minister as well as the first woman chairperson of the Non-Aligned Movement and becoming the people's choice 3 times as the country's Prime Minister. She took small Sri Lanka to be referred to as a 'mighty atom' on international podiums for the manner she worked towards safeguarding the world from nuclear wars, Cold War conflicts, championing the Non – Aligned Movement, policy of nationalization. Sri Lanka was one of the founding 25 nations that created the Non-Aligned Movement.
Her decisions showed she had pluck, it depicted she knew what was needed for the country and the ordinary people. Of course, media was and is quick to scoff at her policies simply because it did not serve western interests. Had her policies continued Sri Lanka would have been a self-sufficient nation moving towards manufacturing instead of the buy and sell, and 'waiting on others' servile and menial mentality that we continue to suffer from getting us or the country nowhere.
Her qualities are what any world leader would be in awe of. Not many has a pluck to rally up her advisors, obtain from them their point of view and then boldly decide on the course of action to be taken. Once a decision was taken Mrs. B. would never bow down to pressures or allow herself to be manipulated by self-serving sources. It was that firmness in her that won her the respect of the world and the world's leaders. These are lessons that subservience and playing the good guy or 'man for all seasons' part in a play will simply equate to be taken as weakness in the eyes of one's adversaries. Mrs. Bandaranaike on the other hand won friends all over the world. Her sternness and forthrightness made sure she was treated with respect by the Arab and the non-Arab world. To this day Pakistan still speaks fondly of Mrs. B. She was showered with gifts from West and East and the BMICH stands tall as just one such token of appreciation from the Government of China. These gifts came not with any exchange or by handing over of any piece of real estate of Sri Lanka. The respect was by virtue of her sheer leadership and integrity.
Heralding Buddhist diplomacy and carving a relationship with India
The simple manner she carved ties with India was seen in the manner when she first took office as Prime Minister in July 1960. She says in her memoirs:
"Shortly after I was elected PM in 1960 Nehru extended an invitation to me and my children to come to India for a holiday on a pilgrimage. I requested that it should not be an official visit as I was still in mourning and I did not wish to attend functions and parties, which is normally extended to heads of governments.
We visited Madras, Bangalore, Mysore before going to Delhi and from Delhi we visited the Buddhist shrine Buddha Gaya, Saranath, Sanchi, Ellore. We did all this by a special plane sent by Nehru to Sri Lanka to take us.
While in Delhi we were his guests at his official residence. 'Teen Murti' which is now the Nehru Museum.
His (Nehru) last visit to Ceylon was in 1962 at my special invitation to open the Bandaranaike Ayurvedic Research Centre at Nawinna. It was very gracious of him to accept my invitation at that time because it was during the Sino-Indian war.
He just came for one night. He said in his speech at the opening that he came in spite of the busy schedule at home because it was in memory of his friend SWRD. That was a great gesture on his part to have come in spite of the fact that India was in the midst of a war with China. He was accompanied by his daughter Indira". (Memoirs of Madame Sirimavo Bandaranaike – Sunday Observer) 
Family Friends: Indira Gandhi, Prime Minister S.W.R.D. Bandaranaike, Sirima Bandaranaike, Prime Minister Jawaharlal Nehru, Anura, Chandrika and Sunethra.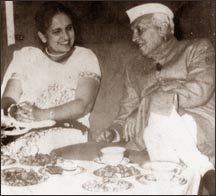 With Pandit Jawaharlal Nehru
http://www.rootsweb.ancestry.com/~lkawgw/sirimavo.htm
The invitation from Nehru enabled Mrs. B. to take her 3 children on a Buddhist pilgrimage to India and it opened the window for Nehru to invite her and her family to Teen Murti where she befriended Indira Gandhi, her sons Rajiv and Sanjay and that secured the friendship that has now unfortunately become so hostile in nature.
She never betrayed Buddhism for any multicultural slogans for she knew that any foreign policy cannot omit or distance the cultural identity of a civilization that was over 2500 years and people who had built up that unique Buddhist civilization.
Friendship with India without compromising Sri Lanka's national interest
What we need to reiterate repeatedly is that she held friendships with Nehru, Indira Gandhi and Lal Bhadur Shastri while not compromising Sri Lanka's national interest. Sri Lanka's national interest was never taken as discussion for any deals between the two nations and having made that clear India did not make any covert or overt plans to do otherwise. What happened thereafter is what we need to ask ourselves.
She took under her wing the roles of Prime Minister, Minister of Defense and External Affairs which epitomized her desire to combine the 3 forces to place Sri Lanka on the world map and that she did with panache. She ensured she had the best of advisors around her – men of gut, learned men and men who knew what best served the interest of nations and not outsiders.
Some of these erstwhile and respected advisors included: Felix R. Dias Bandaranaike, N. Q. Dias, Tissa Wijeyeratne,Nissanka Wijeyeratne, A. B. Perera, R. S. S. Gunawardena, M. D. D. Peiris, Gamini Corea, Vernon Mendis, among others.
N. Q. Dias – "The Prophet" "The Tsar" – Sri Lanka's Clausewitz – a Brief Sketch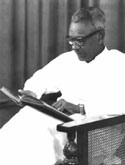 N.Q. Dias

Neil Quintus "N.Q." Dias, CCS was a powerful civil servant. He served as the Permanent Secretary of Defence and Foreign Affairs and the Registrar General. Dias also served as the Ceylon's High Commissioner to India from 1970 to 1972. He was the founding President of the Government Services Buddhist Association.
On 5th October 1954, an organisation by the name of Public Services and Local Government Services Buddhist Societies Federation was established with the participation of the representatives of 23 Buddhist Societies in Government Departments. It was the first time in the history of the Public Service in Sri Lanka that such a Buddhist organization was established. Among the key office bearers elected on that day were; N.Q.Dias, who was the then Registrar General as President, Gunaseela Vithanage an Accountant as Secretary, and Ven.Madihe Pannaseeha Nayake Thero,as one of the Patrons.
At the next meeting held three months later, it was decided to (1) agree on a standardized national dress (2) compile a list of Arya Sinhala names and (3) to request the Government to declare Poya day a public holiday. As a result of this agitation the four Poya days of the month were declared public holidays with effect from 1st January 1966 by the Government of Mr. Dudley Senanayake.
L.H. Mettananda, leader of the Bauddha Jatika Balavegaya (BJB) and N.Q. Dias may well be regarded as the two leading Buddhist activists of the immediate post – independence period.
N.Q. Dias had vision, foresaw scenarios and had the conviction to follow through on what needed to be done. He was the first public servant to don the national dress instead of western attire. It was in 1963 that he foresaw that an armed rebellion would emerge and in preparedness planned to establish a chain of military camps to encircle the Northern Province up to the Eastern Province citing national security. He prophesied that India would stoke a Tamil uprising in Sri Lanka and Tamil Nadu would be the source for illicit arms and thus he realized the naval capacity of Sri Lanka needed to be developed inclusive of fast boats – we know how far the dvoras helped in the final war in 2009. Had it not been for N Q Dias's foresight the Government would not have had military camps in the Northern Province set up to quell uprisings and the LTTE.
Sir Lalitha Rajapakse – gentleman politician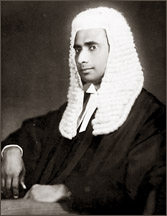 Sir Lalitha Rajapakse
http://www.dailynews.lk/2012/05/05/fea05.asp
He was the 1st leader of the Senate, founding father of the Colombo Plan and one of the 6 signatories of the National Flag Committee Report, as well as Ambassador to France in 1965 and High Commissioner to UK in 1967. He also served 2 cabinets as Minister of Justice and was known as one of the leading Appeal Court Lawyers. He gave up practice to become President of the All Ceylon Buddhist Congress from 1960-63.
Sir Lalitha Rajapakse was one of the most eloquent and polished speakers that the All Ceylon Buddhist Congress was fortunate enough to have as its President. Though he was not a part of the Government at that point of time (1960 – 1963), his speeches and writings while holding that office contributed substantially towards making Buddhist public opinion, together with L.H. Mettananda and the BJB, who were quite vociferous in leading protests against Catholic Action and the persecution of Buddhists in Vietnam by the Ngo Dinh Diem regime.
Mrs. Bandaranaike was very much influenced in her policy and decision making by these Buddhist protest campaigns.
R. S. S. Gunawardena
It was because Mrs. Bandaranaike had erudite advisors that she was able to champion the cause of fellow Buddhists in other nations. Her bold stance on behalf of the 80% Vietnamese Buddhists who were subject to persecution under the US backed Catholic puppet regime of Ngo Dinh Diem, led to her instructing R. S. S. Gunawardena to speak on behalf of the Buddhists of Vietnam at the UN which led to a UN fact finding mission headed by Gunawardena being sent to Vietnam in October 1963 and this is a key reason that led to President Kennedy deciding to depose Ngo Dinh Diem. This was one example how her stature rose by virtue of the competent advisors that she kept.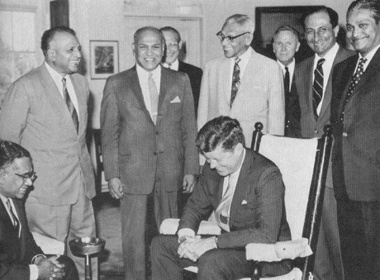 This photo was taken when a Parliamentary Delegation from Ceylon visited President Kennedy at the White House in 1962.
Photo; Left to Right; Mr. C.P.De Silva (seated), Dr. N.M Perera, Mr. R.S.S. Gunawardane, then Sri Lanka rep at UN, Sir Razeek Fareed and Mr. J.D. Weerasekara then MP for Kotmale.
http://www.lankanewspapers.com/news/2011/6/67783_space.html
The Buddhist diplomacy that prevailed during the hay day of Mrs. Bandaranaike is nothing that can be mentioned in a few words. Sri Lanka gained great prestige throughout the entire world. Its identity was clearly established while the other ethnicities and religions were afforded their own freedoms but Buddhism was never bartered and none of her advisors even thought of doing so. Instead they used Buddhism to place Sri Lanka high up on the international platform which gained respect for Mrs B as well as the entire nation.
We need as a matter of high priority key officials in the public service that have the professionalism, the eloquence and the integrity of Mrs B's close advisors.  Their absence today in key Ministries, Buddhist Diplomacy handling and Foreign policy making is deeply felt throughout the country.
Latest Headlines in Sri Lanka