Calls for Secretary Kerry to Retract Distortion of Sri Lanka's War on Terror
Posted by Editor on February 23, 2015 - 7:28 am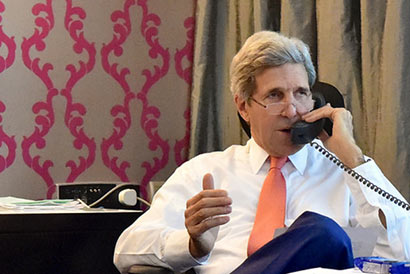 By Hassina Leelarathna
Sri Lankans worldwide are calling a reference US Secretary of State John Kerry made to Sri Lanka's "30-year war on Tamils" a distortion of facts and urge that it be retracted.
Secretary Kerry made the reference in welcoming remarks preceding a meeting in Washington DC with visiting Sri Lankan Foreign Minister Mangala Samaraweera, February 12.  The retraction is being requested in an online petition.
"Sri Lanka's 30-year turmoil can best be summed up using President Obama's ISIS analogy: it was a war on a terrorist group, not on the people it claimed to represent.   Sri Lanka was no more at war with its Tamil population than the American people with Muslims. The distinction is fundamental to the narratives of both nations," the petition states.
"It's a pity Mr. Samaraweera did not immediately set the record straight," said petition author Hassina Leelarathna, a freelance writer and longtime resident of Los Angeles, California.    Leelarathna said the remarks should not be ignored as just a cavalier disregard of facts.  "It might well be a calculated attempt to distort the narrative to support the LTTE diaspora's claims of "genocide"
by the Sinhalese.  "In any case, a correction is needed and, hopefully, there will be no more references to this "war on Tamils" that never took place," she added.
Within hours of posting, the petition drew dozens of global signatures and comments.
"It is absolutely ludicrous! We have lived as a family/nation for centuries until the LTTE spread false propaganda around the world.  Please do not support this fallacy," writes Chandra Fernando of Baltimore, Maryland.
"I am appalled at this outrageous insinuation by the top diplomat of the USA, an otherwise highly intelligent and ethical man, that Sri Lanka fought a war for thirty years with an ethnic community, rather than a separatist-terrorist militia," said Dr. Dayan Jayatilleka, who has served as Sri Lanka's Ambassador to the United Nations Geneva and to France and the UNESCO.
Several signatories called on the United States not to "interfere" in Sri Lankan affairs, some even saying an apology was due from Secretary Kerry.
During the two-day US visit, Minister Samaraweera's  first  trip abroad after assuming office in the historic  January 8 election that ousted President Mahinda Rajapaksa,  the foreign minister  also met with National Security Adviser Susan Rice, co-chairs of the Sri Lanka Caucus in the US Congress, Chris Van Hollen and Robert Aderholt, Chairman of the House Foreign Affairs Committee, Congressman Ed Royce and Ranking Member of the Committee, Congressman Eliot Engel.
Latest Headlines in Sri Lanka