Can't call it 'genocide': Rajitha
Posted by Editor on February 11, 2015 - 7:15 pm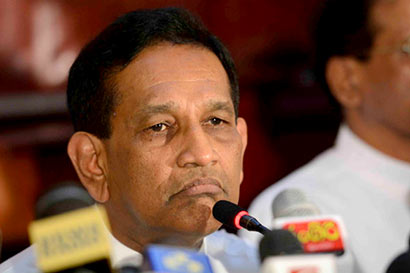 Terming the resolution an 'extremist position,' Health Minister and Cabinet spokesman Rajitha Senaratne said President Maithripala Sirisena had promised to initiate an internationally approved, domestic inquiry process into alleged war crimes committed by Sri Lankan Army and the LTTE.
"This is a period of reconciliation, and both sides should engage constructively, rejecting extremism," he told The Hindu.
Northern Provincial Council (NPC) on Tuesday passed a strongly worded resolution accusing successive governments in Sri Lanka of committing 'genocide' against Tamils.
The 11-page document details different episodes of violence and oppression in Sri Lankan history — from the time of the country's controversial Sinhala Only Act of 1956 — terming them 'genocidal' acts targeting Tamils over the years, culminating in the brutal final phase of the war that, according to U.N. estimates, claimed 40,000 civilian lives.
While the NPC may be justified in raising concern over alleged war crimes, "they cannot call it genocide," Mr. Senaratne said. "Choosing confrontational ways will hamper forward movement on the issue,"
When contacted, the office of Prime Minister Ranil Wickremesinghe has declined comment.
NPC Chief Minister C.V. Wigneswaran has said that it should not be considered an epistle only to the international community, but a challenge to the moral integrity and humaneness of the Sinhalese majority, whom he called his 'brothers and sisters.'
In January 2014, when the NPC passed a resolution calling for an international probe into Sri Lanka's rights record, it was Mr. Wigneswaran who insisted that the word 'genocide' be dropped, observing it had a very specific meaning legally and hence had to be used with caution.
Northern Province Council member M.K. Shivajilingam of the Tamil National Alliance (TNA), who had earlier proposed the resolution, said the Chief Minister had decided to move it after carefully studying various incidents over the years.
(Daily Mirror)
Latest Headlines in Sri Lanka