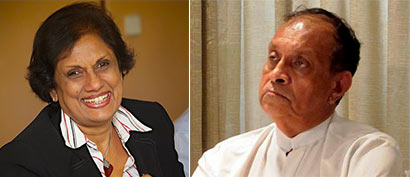 Former UNP Deputy Leader and MP Karu Jayasuriya has received the backing of many political parties and groups looking for a common candidate at the forthcoming presidential election, but some influential players are of the view that twice-president Chandrika Bandaranaike Kumaratunga will be a better candidate.
Sources said that UNP National Leader Ranil Wickremesinghe had recently suggested that Kumaratunga should be the Opposition's choice unless he was accepted as the common candidate. The JVP, too, was agreeable to backing Kumaratunga to accomplish a specific mission, sources said, adding that those pushing for Kumaratunga's candidature believed the former SLFP leader could engineer some notable defections from the government.
Responding to a query, sources said that the move was meant to address concerns raised by MP Mangala Samaraweera, who had called for tangible measures to form a genuine coalition. Sources said that as Kumaratunga was also acceptable to Samaraweera, the Matara District MP could be persuaded to remain in the party if she was fielded to challenge President Rajapaksa.
Asked whether the coalition was contemplating any special conditions, sources said that whoever took up the challenge would have to quit his or her party. In case of Kumaratunga that question would not arise, sources said.
Sources revealed that there hadn't been a consensus among the UNP parliamentary group members as regards Jayasuriya's candidature though he had received the backing of some political parties and organisations including the Peoples' Movement for a Just Society and National Council for a clean tomorrow led by Ven. Maduluwawe Sobitha Thera and Ven. Athureliya Rathana Thera. However, the JVP has asserted that Kumaratunga would stand a better chance.
(Courtesy: The Island)