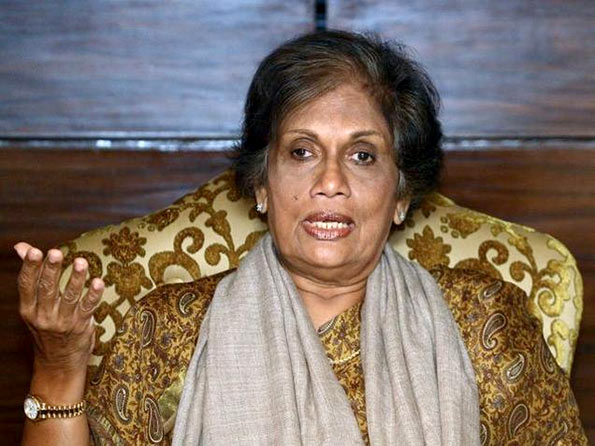 Former President Mahinda Rajapaksa has been conspiring to break up the government and cause division between the President and Prime Minister for the last three years, former President Chandrika Bandaranaike Kumaratunga said.
The group of 16 SLFP Parliamentarians who voted in favour of the No Confidence Motion (NCM) was part of that conspiracy launched by Rajapaksa's agents, Kumaratunga said.
Attending a New Year festival held in Attanagalla on April 21, she said the SLFP had still not discussed the 20th Amendment to the contribution relating to the abolition of the Executive Presidency. "This had to be decided in Parliament," she said.
"The names of other SLFP Parliamentarians crossing over to the Opposition in addition to the 16 members should be asked from Dilan Perera," Kumaratunga said.
She said Dilan Perera was a person who did not obtain a people's mandate, but entered Parliament from the National List even during her time after much begging.
"Today, he is dancing to the tune of outsiders after entering Parliament on the National List. It was an irony to see Dilan Perera who almost worshipped her by proclaiming her as the best politician in the world, is now dubbing her as an expired packet of noodles. The whole world could be turned topsy turvy if 10 such persons dubbed as expired packets of noodles teamed up," the former President said.
Former President Kumaratunga said as for her, she would always punish fraudsters. But, she could not talk about others.
"The Yahapalana Government would last its full term without a hitch despite the cross over of 16 MPs," she said.
According to Kumaratunga's information, there was no move by UNP backbenchers to bring an impeachment motion against the President.
"The President had done no wrong to face such a scenario. The President was too good and lenient," former President Kumaratunga said.
(Source: Daily News)