China hopes Sri Lanka fosters good atmosphere for projects
Posted by Editor on May 17, 2017 - 12:53 pm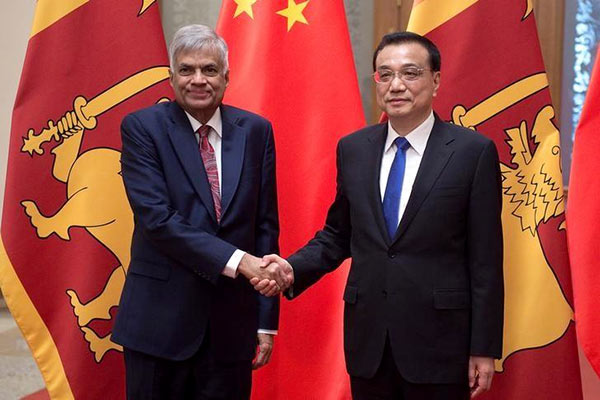 China hopes that Sri Lanka can create a good legal, security and public opinion environment for its investment projects in the Indian Ocean country, Premier Li Keqiang told his visiting Sri Lankan counterpart Ranil Wickremesinghe.
Chinese investment in Sri Lanka has been controversial.
President Maithripala Sirisena is struggling to contain popular opposition to land acquisition for a huge Chinese industrial zone next to Hambantota port in southern Sri Lanka.
In 2015, Sirisena's newly-elected government order a review of the $1.4 billion Colombo port city project, which also has Chinese investment. Both projects are key parts of China's new Silk Road plan.
Li told Wickremesinghe, in Beijing for a summit on the new Silk Road, that relations were good and cooperation steadily progressing, according to a Chinese Foreign Ministry statement late Tuesday.
"China is willing, along with Sri Lanka, to steadily promote the construction of the Colombo Port City, Hambantota port, logistics and industrial zone and other projects in accordance with market and commercial principles," the ministry cited Li as saying.
China "hopes the Sri Lankan side can great a good legal, policy, security and public opinion environment for this," Li added.
Adding to the uncertainly about relations, last week Sri Lanka rejected a request from China to dock one of its submarines in Colombo this month.
China has invested heavily in Sri Lanka in recent years, funding airports, roads, railways and ports, unsettling India, traditionally the closest economic partner of the island nation of 21 million people.
(Reuters)
Latest Headlines in Sri Lanka