China's top legislator vows further ties with Sri Lankan parliament
Posted by Editor on June 14, 2012 - 11:42 am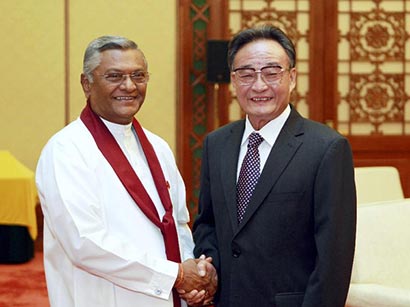 Wu Bangguo (R), chairman of the Standing Committee of China's National People's Congress (NPC), shakes hands with Chamal Rajapaksa, Speaker of the Sri Lankan Parliament, in Beijing, capital of China, June 13, 2012. (Xinhua/Ju Peng)
BEIJING, June 13 (Xinhua) — China's top legislator Wu Bangguo on Wednesday pledged to boost exchanges and cooperation with the Parliament of Sri Lanka.
Wu, chairman of the Standing Committee of the National People's Congress (NPC), made the pledge during a meeting with Chamal Rajapaksa, speaker of the Parliament of Sri Lanka.
Wu hailed the traditional friendship between China and the South Asian state, saying bilateral ties are experiencing a prime period marked by frequent high-level visits, fruitful economic cooperation and active cultural exchanges.
He called on the two sides to enhance mutual understanding, support each other on issues concerning their core interests and major concerns and promote cooperation in the agriculture, fishery and infrastructure sectors.
China supports Sri Lanka to choose its own development path based on its own domestic situation, Wu said, noting that China encourages Chinese companies to invest in Sri Lanka and contribute to its reconstruction efforts.
He also appealed to the two states to enhance coordination within multilateral mechanisms like the United Nations and the Shanghai Cooperation Organization so as to safeguard common interests.
The NPC attaches importance to its relations with the Sri Lankan parliament, Wu said, pledging to further exchanges at various levels and on topics like legislation, supervision and governance.
Describing China as "a friend and partner, indeed," Chamal said China's development will bring about opportunities for other developing countries, including Sri Lanka.
Sri Lanka will work with China to boost exchanges between the two governments, parliaments, parties and different regions, strengthen cooperation in investment, tourism, and infrastructure and enhance cooperation within the Shanghai Cooperation Organization.
Sri Lanka will constantly stick to the one-China principle, which is a core aspect of its foreign policy, he said.
Xinhua
Latest Headlines in Sri Lanka