I will not join the government – SF
Posted by Editor on June 14, 2012 - 4:17 pm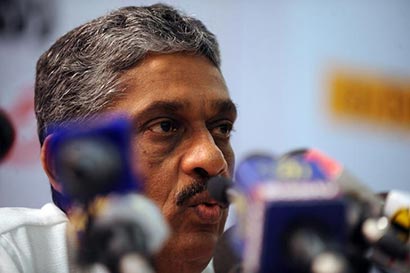 Former Army Commander Sarath Fonseka stated today (June 14) that his primary goal was to begin his new political journey while adding that he had no intention of joining the government and would work for the common opposition.
Speaking at his first media conference following his recent release from prison, Fonseka said that he had no intention of slowing his political life down in any way but would mature politically and begin his new journey.
Addressing journalists in Colombo, he said that the government had not implemented any conditions with regards to his release but added that he had told DNA MP Tiran Alles that he intended to get back to politics while he had made certain requests regarding his security requirements.
Furthermore, Fonseka commented on the situation in the North stating that it was not wise to remove all military presence from the area at once as the rehabilitation work in the area was still ongoing. Instead he suggested that the removal of the army from the area be done patiently in planned phases.
Courtesy: Ada Derana
Latest Headlines in Sri Lanka