Chinese tourists to Sri Lanka grow 8.9% in Jan
Posted by Editor on February 17, 2015 - 7:07 am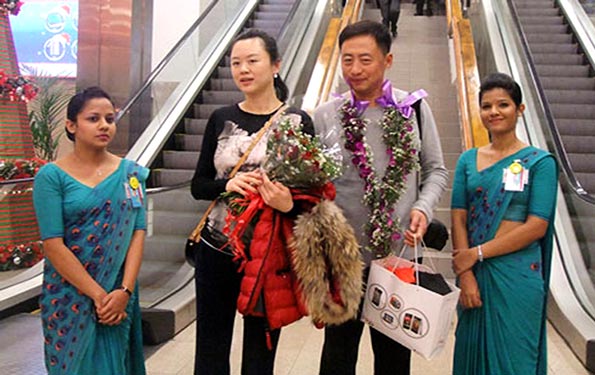 Chinese tourist arrivals to Sri Lanka kicked off the new year positively, growing by 8.9 percent in January, latest data showed Monday.
In the first month of 2015, Chinese arrivals grew to 11,735 from 10,779 in January 2014 retaining their spot as the third highest source of tourists to Sri Lanka.
Chinese tourists to the tiny island country have risen rapidly over the last two years with 2014 ending at an all-time high. In 2013 only 54,288 Chinese tourists visited Sri Lanka but the numbers ballooned to 128,166 by the end of last year, growing an impressive 136.1 percent, according to the Sri Lanka Tourism Development Authority (SLTDA).
Only tourists from India and Britain outstrip numbers from China and experts say China will likely overtake Britain to the second run by the end of this year. China already has the highest growth rate of any country.
Since the end of a three-decade war in 2009, Sri Lanka's tourist arrivals have boomed, reaching over 1.5 million last year and attracting earnings of $1.7 billion, according to the Central Bank.
The tropical island country is aiming to attract 2.5 million arrivals by 2016.
Overall Sri Lanka's tourist arrivals rose 6.6 percent in January this year compared to the same period last year, (SLTDA) data showed.
The month recorded 156,246 tourists arriving in the country compared to the 146,575 arrived in January 2014.
Tourist arrivals from East Asia increased marginally by 1.5 percent as 26,198 visited the country compared to the 25,823 visited in January 2014.
Arrivals from South Asia this year increased by 18.2 percent with 33,559 tourists visiting the country. Of those arrived from South Asia, 22,944 were from India corresponding to an increase of 28.3 percent this year.
(Xinhua / China Daily)
Latest Headlines in Sri Lanka