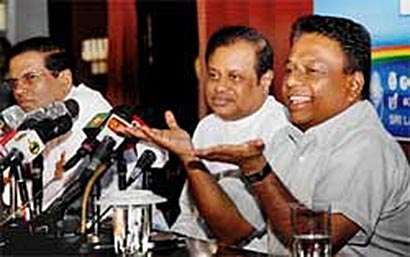 Minister Alahapperuma addressing the media
Having failed in a series of political projects to undermine the government, the UNP led Opposition was now exploiting the Chief Justice Dr. Shirani Bandaranayake issue to its advantage, the SLFP alleged yesterday.
Addressing the media at the Mahaweli Centre, SLFP heavyweight Dallas Alahapperuma said that the Opposition was making a fresh bid to challenge the government.
Minister Alahapperuma said that those shedding crocodile tears for Dr. Bandaranayake had conveniently forgotten the recent accusations made by their colleagues in Parliament. Speaker Chamal Rajapaksa had been constrained to expunge some of the statements attributed to UNP MP Dr. Harsha de Siva, UNP MP Dayasiri Jayasekera and JVP MP Anura Kumara
Dissanayake as regards the conduct of the Chief Justice and her husband, Pradeep Kariyawasam, the then Chairman of the National Savings Bank (NSB), Alahapperuma added.
Now that the government had initiated impeachment proceedings against the Chief Justice, those who had been extremely critical of Dr. Bandaranayake and her husband were playing a different tune, the minister said.
The proposed Parliamentary Select Committee (PSC) would also examine the allegation against Kariyawasam with regard to his role in the controversial transaction involving the NSB and the TFC (The Finance Company).
Alahapperuma recalled the circumstances under which the UNP-JVP-TNA alliance had fielded one-time Army Chief Gen. Sarath Fonseka as the common Opposition candidate against incumbent President Mahinda Rajapaksa at the last presidential poll. Acknowledging the leading role played by Gen. Fonseka during the war against LTTE terrorism, the minister said that the Opposition had even questioned his suitability to command the Army. Some had alleged that Gen. Fonseka wasn't even good enough to lead the Salvation Arm, he said. The Army Chief was accused of running a death squad, while being a US citizen, the minister said. But as soon as the army chief retired following differences with the government, the Opposition had declared him as the country's saviour. Having failed in his task, Gen. Fonseka was on his own today, the minister said.
The Opposition had treated the then Chief Justice Sarath Nanda Silva in a similar manner, Minister Alahapperuma said. The SLFPer recalled the circumstances under which the UNP spearheaded an abortive bid to impeach the Chief Justice over a spate of allegations.
Alahapperuma said that the Opposition approach to the issue of Dr. Bandaranayake was very much similar to earlier political projects involving Gen. Fonseka and former Chief Justice Sarath Nanda Silva, which had ended up disastrously for all those involved.
Courtesy: The Island