Congress team briefs Rahul about TESO meet
Posted by Editor on March 6, 2013 - 8:22 am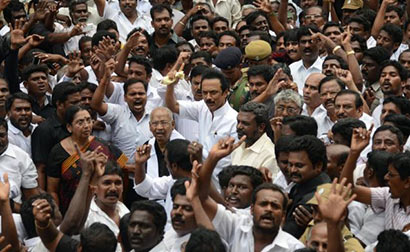 Submitted by Walter Jayawardhana
Seeking to dispel the impression that the Congress is indifferent to popular sentiment in Tamil Nadu on the Sri Lankan Tamils issue, party MPs and Union Ministers have briefed AICC vice-president Rahul Gandhi about the need to participate in the Tamil Eelam Supporters Organisation (TESO) conference to be held in Delhi on March 7.
The meeting of Congress Ministers and MPs from the State with Mr. Gandhi came a few days after DMK Parliamentary Party leader T.R. Baalu and Rajya Sabha member MP Kanimozhi met him.
"There is no word officially yet about our participation. Mr. Rahul Gandhi has asked AICC general secretary Gulam Nabi Azad to discuss the issue with party president Sonia Gandhi to take a decision," TNCC president B.S. Gnanadesikan told The Hindu.
He, however, made it clear that the Congress would not subscribe to the DMK's view that a separate 'Tamil Eelam alone would be a solution to Sri Lankan Tamil question.
"We are with the Tamils and want to secure rights for them on a par with the Sinhalese. But we want to achieve everything within a united Sri Lanka. We told Mr. Rahul Gandhi that we should participate in the [TESO] conference and reiterate our views," Mr Gnanadesikan said.
Congress MP K.S. Alagiri, representing Cuddalaore Lok Sabha Constituency, said it was his personal opinion that the Congress needed a platform to articulate its views on Sri Lankan Tamils issue and that TESO could provide one.
"We cannot sit with Vaiko or Nedumaran or some other groups and discuss the Tamil issue. We are against the LTTE; we are against its leader Prabakaran and we are also against a separate Eelam. But we are with the Tamil people," Mr Alagiri said.
Reiterating that if only the Indo-Sri Lankan accord of 1987 had been allowed to be implemented, it would have secured the Tamils in the country a state like Tamil Nadu, Mr. Alagiri said Rajiv Gandhi's efforts were brought to nought by the LTTE.
"Now we need a platform to campaign for the rights of the Tamils and I feel TESO could fulfill our objective," he said.
Union Ministers P. Chidambaram, G.K. Vasan and Jayanthi Natarajan were among those who were part of the delegation that met Mr. Gandhi.
Sources in the DMK said Mr. Gandhi was very receptive and was keen on maintaining rapport with the party's regional allies in the run-up to Lok Sabha elections due next year. (Courtesy the Hindu)
Latest Headlines in Sri Lanka