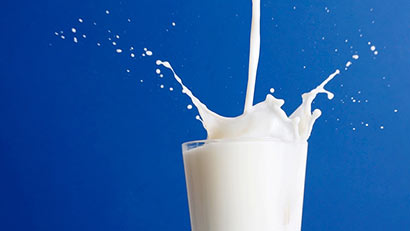 – by Shenali D Waduge –
It was as far back as in early March that the Nation newspaper boldly informed the public of Sri Lanka about hazardous milk powder sneaking into Sri Lankan market. Milk powder containing DCD (Dicyanidiamide – a hazardous agrochemical) produced by New Zealand Dairy Company Fonterra whose flagship brand "Anchor" is popular in Sri Lanka. Is it because Fonterra controls 60% of the milk market that authorities remained mum and waited for China and Russia to take action to join them to ban and suspend milk imports months later? We wonder what other type of imported items that the Sri Lankan consumer is poisoned with and the authorities are keeping silent about. We also wonder to whose benefit the Health Ministry continued to claim milk powder was safe for consumption when the Industrial Technology Institute (ITI) insisted that the powdered milk was contaminated. How much does it take for people to keep silent in the larger interest of the country and its people? This serves as a good lesson for the Sri Lankan public too in preferring to consume everything foreign instead of helping the local producers.
In New Zealand too investigations in early 2013 had revealed traces of DCD in 371 samples in milk powder, butter and cheese products. The New Zealand media were also critical of its government.
Fonterra finally admits DCD
When the New Zealand Government intervenes and took control of Fonterra's response to the world regarding the milk contamination we know the situation had become serious. Fonterra CEO even travelled to China to make a public apology and New Zealand PM John Key announced that Government ministers would also visit Beijing because China is a large market and one which New Zealand does not want to lose. Moreover, the fact that China makes no bones about issues certainly adds to the mutual respect which cannot be said about how Sri Lanka's officials function and it is no wonder that at every turn our nation ends up being treated as doormats because officials do not know to function in ways to command mutual respect. While Fonterra's CEO goes to China to apologize, Sri Lanka's Fonterra head denies DCD in its milk powder and even holds a press conference giving journalists who covered the press conference seven 400 g packets of Anchor milk powder each as compliments from Fonterra!
Be that as it may Fonterra claimed in a statement that no detectable traces of DCD was found in 36 consignments that entered Sri Lanka since June 2013 (4700 metric tons of Anchor full cream milk). The statement also said that multiple independent international laboratories confirmed that New Zealand milk in Sri Lanka do not contain measurable levels of DCD and that 200 tests were carried out without any traces of DCD. Now what do they have to say to the public?
It was also in March 2013 that the Fonterra chief claimed that international food safety standard treaties do not compel milk powder product manufacturers to cite the course of the ingredients in milk products.
We need to also add that Anchor Brands have also obtained Halal Certification from the ACJU while claiming that international treaties do not warrant Fonterra to disclose their ingredients to outside parties – which then questions how Anchor brands was given the halal label/logo if ACJU are not allowed to test their ingredients and to confirm no pigs fat is used?
Fonterra being the world's biggest dairy exporter ($9billion annual dairy trade) should have functioned more ethically than it has. True the consumers of developing nations are not as conscious of their rights and how to demand their rights but that does not mean that these nations should have to be victims of food contamination while importers also prefer to keep mum because they are more concerned about selling their wares and making profits while state authorities are asleep or end up lying to us.
When state authorities lie
We can accept that foreign milk producers are concerned about selling their goods and importers are concerned about making profits by putting what they import into the local market but when authorities tasked with ensuring that whatever Sri Lanka purchases and its public consumes is environmentally friendly, healthy and most of all does not cheat the consumer and country – we would like to know what is happening.
Repeatedly the Sri Lankan Health Ministry ignored the stand taken by the ITI and claimed that imported milk food was safe for consumption ""ITI's findings are unacceptable as 148 random samples tested for DCD in a laboratory in Thailand proved negative", a Health Ministry official said. Not stopping at that the Health official goes on to humiliate the ITI saying that it didn't have the technological capacity to test milk food imports and the Govt had to send random samples to Thailand. If distrusting our local officials was not enough the Fonterra Brand MD Mr. Clement himself declared that "We export to more than 150 countries across the globe, but only Sri Lanka has questioned the quality of our products" – he must next respond to how numerous nations are withdrawing their milk causing alarm across their countries. Besides, who is to really judge what levels of bugs is tolerable in what we eat or drink and when the per unit amount doubles or trebles in usage who will answer to the adverse effects? The public needs to be aware that DCD, cadmium or arsenic is also in salt, white sugar, flour and even vegetables and yams. A UN study suggests that the salt we consume daily is far worse a health risk than DCD – it just goes to show how pesticide, insecticides and other such sold by companies are making profits by spraying what we eat and causing health issues for the entire world. Is this not one reason why people are suffering from cancers, diseases that doctors do not know how to diagnose, ending up in people under the nightmare of lab tests and constant medication leading to other health complications thereafter?
Sri Lankan authorities have now temporarily suspended importation of milk and have advised Sri Lanka customs officials but the golden question is what about the milk powder already on the stands of shops and supermarkets? How many gullible consumers will continue to purchase these milk powder or will these end up as humanitarian aid to people as is the general practice of dumping items with short shelf life or about to expire as humanitarian aid to developing nations!
The present milk contamination scare comes 5 years after the discovery of melamine in milk in China leading several baby deaths.
It is for the public to know where milk powders come from:
New Zealand : Anchor, Lakspray, Nespray, Raththi
Australia : Maliban
Local : Pelawatte, Highland
Why do Sri Lankans not value local products?
A question all Sri Lankans would well do to ask is why our people are reluctant to buy what our own people produce? A good example of this tragedy was seen when dairy farmers in the central highlands let loose 12,000 litres of fresh milk in protest because they could not sell their product because private milk companies working through collection agents had suspended their purchases.
The Government had to end up buying the unsold milk through state-owned Milco which also produces ice cream and yoghurts from local produce. So why is it that people prefer to buy foreign when the local products are already available and in stock? Milco has 77 chilling centres which can hold 325,000 litres and has 52 bowsers that can transport 350,000 litres and factories can hold another 270,000 litres. Do people not want to help the 2000 dairy farmers and their families and prefer instead to make foreign farmers, foreign companies and importers profit? Are people victims to the marketing gimmicks that make it fashionable to drink imported milk products and discard what their own people produce? People have yet to realize that most of the items being imported are processed or contaminated and these all lead to health issues.
It would be good for Sri Lanka's consumers to assess what they eat and drink and think about the health factor and their well being first.